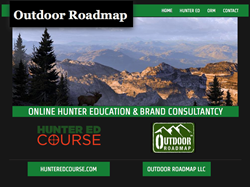 Birmingham, Michigan (PRWEB) March 31, 2014
A new website design has been launched for Outdoor Roadmap the parent company of Hunter Ed Course, the leading online hunter education provider. The new site can be accessed at http://www.OutdoorRoadmap.com.
The primary business of Outdoor Roadmap is selling an online hunter safety course for state required hunter education through the website http://www.HunterEdCourse.com.
Hunter Ed Course is the official online hunter safety course for:

Colorado Hunter Education
Connecticut Hunter Education
Delaware Hunter Education
Florida Hunter Education
Georgia Hunter Education
Kentucky Hunter Education
Nebraska Hunter Education
Texas Hunter Education
Virginia Hunter Education
West Virginia Hunter Education
Hunter Ed Course offers the lowest cost narrated online hunter education course at $13, almost half the cost of the other similar offerings. Hunter Ed Course features narration with closed captioning, photos and interactive animations.
A hunter is only required to take a state-approved hunter education course once and then it is good for a lifetime of hunting. Once hunter education certification is achieved then all states and Canadian provinces recognize the certification.
Online hunter education allows a user to take the state-required hunter education course when and where it is convenient, as long as there is an Internet connection. The other alternative for someone wanting to start hunting is to attend a classroom session of the course hosted by a state's fish and game agency. Gaining certification through this means generally occupies a weekend commitment.
With online hunter education training, a new hunter is only required to complete the online course at his or her leisure and then in most states attend a field/skills day of approximately four hours (varies by state) to demonstrate hunter safety knowledge and gun handling skills. A user can almost cut their time in half by learning online.
A student can access the Hunter Ed Course online hunter safety course through http://www.HunterEdCourse.com or through the new http://www.OutdoorRoadmap.com.
About Outdoor Roadmap and Hunter Ed Course
Outdoor Roadmap's Hunter Ed Course is a Michigan-based online Hunter Safety training company committed to ensuring the lifestyle and heritage of hunting in America through easier access to the sport with a low cost online hunter education training and information available at http://www.HunterEdCourse.com.