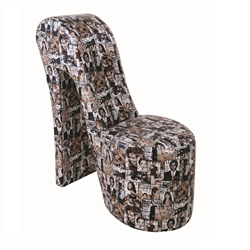 (PRWEB UK) 2 April 2014
Adding to its list of ever increasing trendy and stylish design patterns, Furniture in Fashion launches Madonna Furniture-Novelty Chair.
Furniture in Fashion has been introducing a lot of trendy designs in the market these days. The people these days are constantly looking out for stylish furniture based on designs of famous celebrities. Having a Madonna styled furniture chair will obviously appeal to the mass following that she has.
The company has seen a huge market potential in attracting customers preferring such pop star theme based Novelty Chair. These chairs are having enormous popularity especially among the youth of the world. And especially with social media having such an important part in influencing peoples decisions these days, people are being more and more exposed to such modern trendy designs. The chair that has been launched now with a vibrant and colorful Madonna Print cover is extremely comfortable for relaxation. The chair is also available at affordable rates. Also these days' people are looking at innovative ways to light up their ambience of their homes and such vibrant chairs that are visually pleasing help a great deal in achieving this.
Also the thing about this novelty chair is that it blends some original classic stuff with this exiting Madonna Cover to make it appear absolutely amazing. The chair in itself will be available in various colors. The Madonna print cover which is the major highlight of this chair would be designed in various colors like brown, black, white, green etc. The chair will look very good in the like living room of the house and add a touch of freshness to the entire environment. The chair with the Madonna cover will also look good to anyone who enters the house and will surely create a lasting impression. The dimensions of the chair would be: height: 800 m; width: 500 m; depth: 400 m.
The managing Director of Furniture in Fashion said, "We are extremely happy with the response we received for previous such similar Novelty chair designs and we have decided to launch a new version with the theme being that of Madonna. Looking at our previous track record and also the popularity of Madonna we are confident that this design will be a runaway hit as well."
Furniture in Fashion has a wide range of products in various categories that are available in various designs and also at all price ranges. These products have been created extremely skillfully in its Germany based warehouse and can be seen on the website and the outlet in England. For detailed information on these products and some additional services, please check the official website at http://www.furnitureinfashion.net.