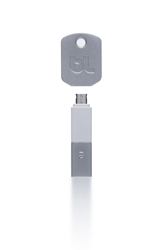 Pasadena, CA (PRWEB) April 01, 2014
Bringing greater connectivity to smartphone users everywhere, Bluelounge today releases its Kii with a Micro-USB connector. Kii is a short, key-shaped cable that fits on a keychain for ultimate convenience, accessibility and mobility. Ideal for frequent travelers, Kii allows users to charge and sync without the use of a WiFi network from the USB port of their laptop.
Joining the robust offering of Bluelounge charging accessories, Kii Micro-USB fuses brilliant design with practical simplicity for users looking for well-designed accessories. Kii Micro-USB is designed for on-the-go consumers looking to stay synced and charged.

A lifesaver in the event that a charger or cable is left behind, Kii is an emergency connection to have on hand, always.
Simple in both style and function, Kii features a self-locking cap to protect the charging end and ensure it stays securely on the keychain.
Perfect for those transitioning between devices, Kii is available in:
i. Micro-USB, at a suggested retail price of $24.95
ii. Lightning, compatible with iPhone 5 and iPad Mini at a suggested retail price of $39.95
iii. 30-pin, compatible with iPod and iPhone 4/4S, at a suggested retail price of $19.95
For more information on Kii Micro-USB, visit http://www.bluelounge.com.
Follow Bluelounge on Twitter at twitter.com/bluelounge and on Facebook at facebook.com/bluelounge for the latest news on all Bluelounge products.
About Bluelounge
Bluelounge is an award-winning, international design studio known for its clever products that solve everyday problems through design.
Each product is designed to provide an effortless solution that stands the test of time and integrates into your life so seamlessly, you can't remember living without it.
Under the creative direction of Dominic Symons, the Bluelounge team is a vibrant collective that champions ingenuity and embraces creativity to fuel innovation.
Bluelounge is headquartered in Singapore, with studios in Jakarta, Indonesia and Pasadena, California.
Bluelounge products are currently available online and at select retailers worldwide. To find a retailer nearby, please visit our store locator.
Note to reporters: High-res images are available here: http://www.bluelounge.com/media
# # #
Media Contact:
Kaitlin McIntyre
Bluelounge
P | 626.564.2802 ext. 706
kaitlin(at)bluelounge(dot)com