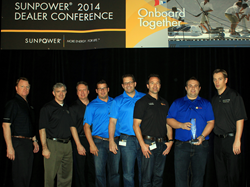 Bakersfield, California (PRWEB) April 01, 2014
Sun Solar, a Bakersfield-based solar installer and SunPower Elite Dealer, today announced it has received the SunPower "Residential Regional Dealer of the Year" award for its outstanding performance as a SunPower dealer in 2013.
"Sun Solar is honored to receive the 2013 'Residential Regional Dealer of the Year' award from SunPower for our success delivering the world's highest efficiency solar systems and superior customer service to homeowners," said Jeff Periera, President of Sun Solar. "Partnering with SunPower, a leading solar technology and global energy services provider, allows us to offer our customers reliable solar energy and electricity savings over the life of their systems."
The "Residential Regional Dealer of the Year" award honors SunPower residential dealers that demonstrate exceptional customer service knowledge and leadership in their region of the United States. The SunPower dealer network includes more than 1,800 dealers worldwide, with approximately 400 located in the U.S.
"We congratulate Sun Solar for their extraordinary performance in 2013," said Howard Wenger, SunPower president, regions. "As a SunPower Elite Dealer, they have demonstrated a level of quality and commitment to excellence exceeding our expectations, and we look forward to their continued success in 2014."
In 2013, Sun Solar installed more than 10,000 SunPower solar panels for residential customers, generating enough clean energy to meet the electricity needs of approximately 600 homes. Sun Solar also ranked 26th in Solar Power World Magazine's list of 2013 Top 100 Residential Solar Contractors nationwide.
For more information on Sun Solar, call 661-379-7000 or visit http://www.SunEnergyHome.com.
About Sun Solar
Sun Solar is a locally-owned solar power contractor located in Bakersfield, Calif. With Bakersfield's abundant sunshine, 272 days a year on average, Sun Solar is in a unique position to help local residents take advantage of this free, natural resource. Founded by Jeff Periera in 2008, and partnered with Scott Ryan in 2011, Sun Solar has consistently been ranked in the top tier of residential solar contractors in the nation. Sun Solar offers its customers a variety of solar system financing options including leasing and power purchase agreement (PPA) programs. Sun Solar is proud to offer only the finest U.S. made solar panels, including SunPower – the highest efficiency panels available on the market today.