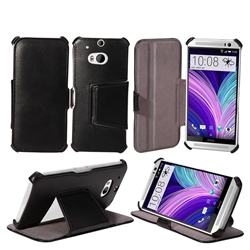 Perfect-fit design fully protects the New HTC One M8 from external scratches and shocks!
Marlboro, NJ (PRWEB) April 02, 2014
The AceAbove New HTC One M8 Synthetic (PU) Leather Folio Stand Case combines the properties of both a sturdy covers and a convenient stand for the New HTC One M8.
The exterior of the AceAbove HTC One M8 Case is made of premium synthetic (PU) leather and the inside of the case is lined with microfiber chamude for better protection and a smooth touch. It's the perfect case for surfing the web and viewing movies on the New HTC One M8 smartphone.
There are multiple etched grooves of the AceAbove HTC One M8 Leather Case for positioning the device to optimal viewing angle. The folio style cover has precise cutouts to support all ports, controls, buttons, and even camera, which provides the maximum portability of the newest electronic device -- The New HTC One M8 smartphone.
Currently the AceAbove new HTC One M8 leather case is on sale at Amazon.com.