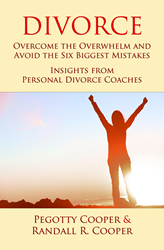 The authors help you confidently put your divorce in the very best hands—YOURS
Tampa, FL (PRWEB) March 31, 2014
"If we help just one person going through divorce and help them avoid one of the biggest mistakes, it will have been worth it to us to write this book", according to the authors Pegotty and Randall Cooper, co-founders of the CDC Certified Divorce Coach® Program for training and certifying personal divorce coaches.
It is no surprise to anyone who has been through divorce that divorce is a process that can overwhelm your life. If not approached properly, decisions made during this period can result in serious mistakes that can have long-term consequences for everyone involved. The overwhelming nature of divorce leads to six common, yet entirely avoidable mindset mistakes. Yet, men and women alike going through divorce can be heard to utter the words described in this book that signal that they are about to make one of these not inconsequential mistakes. These mistakes can lead to a number of major legal, financial, and other wrong turns.
Here are a few of the comments from those who have reviewed this book:
"The authors of this book, personal Divorce Coaches, provide you with perspective on what to do—and what not to do—when navigating the journey of divorce. They offer you a roadmap with hazard warnings to keep you on track." Wendy Ellen Coughlin, Ph.D., Licensed Mental Health Counselor, Supreme Court of Florida Certified Family Mediator and Parenting Coordinator
"…Each chapter provides an overview of a mistake, insights about each problem, and then helps you develop clarity and a course of action before taking your next steps. The workbook format is especially helpful because it offers an opportunity for you to learn and grow as you reflect and write." Kim Clausen, Denver, CO
"A much-needed gem! Laid out in an easy-to-follow format—that takes much of the hassle out of sorting through the inevitable "gunk" of a divorce—this book will 'evolutionize' how people experience and successfully navigate all the potential traps and pitfalls of their divorce. The authors help you confidently put your divorce in the very best hands—YOURS!" Laurie Cameron, Master Certified Relationship Coach, Mentor Coach, and Author of The Journey from Fear to Love.
"For those who are facing divorce today, this book is a good start to coaching yourself and finding your own wisdom. Pegotty and Randall bring their extensive experience and genuine hearts to this topic. I recommend their work and this book without reservation." Lorraine Lane, Business Coach and Author of Business-Building Referrals
"This book offers a step-by-step process to confront divorce and take the necessary actions for a healthy divorce. Use this book and you will reduce the amount of time, money and emotion you expend on your divorce by no less than fifty percent. The questions at the end of each chapter offer many insights. This book can be used as a vehicle when going through divorce and also as a reflection and completion of anything unresolved as a result of the divorce. Bravo." Debbie Schwarz, Judicial Assistant, Family Court Division of State of Florida.
The authors, Pegotty and Randall R. Cooper, are co-founders of the CDC Certified Divorce Coach® training and certification program, and have been helping people navigate divorce for more than a decade, Randy as a family mediator and divorce coach, and Pegotty as a divorce coach. Pegotty and Randall live in the Tampa Bay area.
Preview the book on Amazon, available in both print and kindle.
CDC College for Divorce Coaching® and Divorce Coaching, Inc., a Florida Corporation provides CDC Certified Divorce Coach® training and certification for those engaged in the profession of personal divorce coaching. Approved as a Continuing Coach Education Provider through the International Coach Federation (ICF), the CDC Certified Divorce Coach® Program maintains the standards of the ICF and additional professional standards developed through the CDC Board of Standards®. Divorce Coaching Inc. is also approved as a continuing education provider for the Institute of Divorce Financial Analysts™ (CDFA™) through http://www.DivorceCE.com. For more information, visit http://www.certifieddivorcecoach.com.