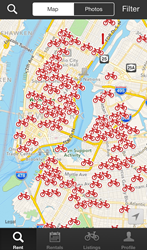 Santa Monica, CA (PRWEB) April 01, 2014
Spinlister, the world leader in peer-to-peer bicycle sharing, announces a major sponsorship of Transportation Alternatives 2014 events. This Spring and Summer, Spinlister is sponsoring over fifty events throughout New York City, including: Bike To Work Day, NYC Century Bike Tour, Celebrate Brooklyn! Concert Series, Brooklyn Bridge Movies With A View, Tour de Brooklyn, Tour de Staten Island, and Tour de Queens.
Transportation Alternatives, a New York City bicycle advocacy non-profit organization, has been around for over forty years with a mission "to reclaim New York City's streets from the automobile and to promote bicycling, walking, and public transit." Spinlister will be helping TA promote bicycling by offering NYC residents an easy-to-use platform to rent and list bicycles from each other. "Many individuals wish to participate in TA events but may not have a bike to do so. We want to help residents get involved in these awesome events by making them aware that our platform exists. To us, sponsoring TA is more than just getting listings and rentals, we really want to grow the biking community," says Spinlister's CEO Marcelo Loureiro.
In an effort to grow the biking community, Spinlister has launched a campaign to reach one million bikes listed globally. Spinlister's vision is to create the world's largest bike share platform by connecting like-minded individuals. "We believe that each bike has a voice. By getting more bikes on our streets and more individuals interested in cycling, there will be additional voices to speak up for bike advocacy and safety," says Loureiro.
To help NYC residents participate in Transportation Alternatives events please list your bikes at http://www.spinlister.com/list.