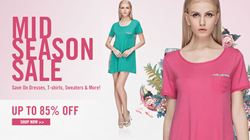 Most bloggers did not become bloggers for money, they started blogging because they simply and genuinely love fashion, they are willing to maintain their independence and spend their time sharing thoughts with people like minded.
New York (PRWEB) April 25, 2014
Blogger Outreach is always mentioned when people start talking about marketing strategy. "Bloggers and YouTubers (hereinafter jointly referred to as bloggers) are very good at getting near the top of search result pages, they have intimate connection with their fans, and are always easy to communicate with. No reason not to include them in the promotion campaign." One of OASAP's employees said.
Yes, that's absolutely right. But what is happening to fashion bloggers today?
The strategy most companies use is what people call "Hit it and Quit it". They chase after big bloggers from the top ranking lists, harass them with endless impolite emails, and after they get it, they just sit back and wait for the bloggers to suddenly spare no effort to promote their products, while they offer little in return. Some bloggers will buy it, but basically that's just nonsense.
Most bloggers did not become bloggers for money, they started blogging because they simply and genuinely love fashion. They are willing to maintain their independence and spend time sharing thoughts with people that are like minded. But promoting for some companies could easily make them lose their audience and integrity, which is definitely not what they should be rewarded for all the hardwork. It's is always sad to see people being used, especially those who possess true passion for fashion.
What OASAP pays its bloggers, is called "Respect". This company actually cares about bloggers and knows how to cultivate the relationship. Right from the start, instead of mail bombing, OASAP recognizes the right bloggers with chance of cooperation, approaches them with courtesy, and thanks them for their time if they are not willing to cooperate. OASAP learns from bloggers and shows them great respect by acknowledging their hard work. This company encourages bloggers to be themselves and express their own opinions, not lie against their will. If the bloggers have any feedback apart from the promotion, they can certainly say what they want to say, which on the other hand, will only help the company upgrade and improve.
OASAP pays respect to all fashion bloggers and YouTubers and provides as possible everything they need. As a matter of fact, OASAP will be giving away gifts to bloggers in the near future, as a thank-you for what they have been doing for the company.
Simply put, respect goes both ways. If people respect the bloggers, they will surely respect back, and that's how the relationship is supposed to be cultivated and maintained in the long run.
OASAP is: A High-street Fashion Online store
OASAP Likes to: Deliver Fashion & Love!
OASAP is a global online store dedicated to high-street fashion by offering various kinds of women's apparel, bags, shoes, jewelry accessories, beauty products, etc.
OASAP's mission is to get you closer to the planet's most cutting-edge fashion, no matter where you are or what class you belong to.