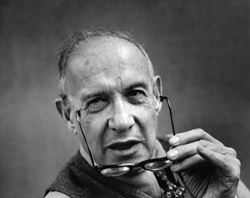 Our aim is to help the sector learn some of Drucker's timeless lessons about how to spot innovative opportunities, drive toward the highest impact, and build the systems and culture necessary to create tomorrow.
Claremont, CA (PRWEB) April 01, 2014
The Drucker Institute at Claremont Graduate University has announced a call for applications for the 2014 Peter F. Drucker Award for Nonprofit Innovation.
The winner will receive $100,000, thanks to a generous grant from The Coca-Cola Foundation.
The award application is now available on the Drucker Institute website. The submission deadline is July 1, 2014. (If you have questions about the application or award process, please contact award[at]druckerinstitute[dot]com).
Administered annually since 1991, the Drucker Award is granted to a social-sector organization that demonstrates Drucker's definition of innovation—change that creates a new dimension of performance. In addition, the judges look for programs that are highly effective and that have made a difference in the lives of the people they serve.
In 2013, a record 864 nonprofits from 49 states and the District of Columbia applied for the award.
"'Innovation' has become one of the biggest buzzwords in organizational life—almost to the point of being rendered meaningless," said Rick Wartzman, executive director of the Drucker Institute. "But Peter Drucker had a very precise way to think about innovation, guided by a clear set of principles. Our aim with the Drucker Award is not only to recognize the true innovators in the field and celebrate their example, but to help the sector learn some of Drucker's timeless lessons about how to spot innovative opportunities, drive toward the highest impact, and build the systems and culture necessary to create tomorrow."
To that end, Wartzman noted, the Drucker Award application has been designed as a teaching tool, providing those organizations that fill it out with some of Peter Drucker's key insights on innovation. Last year, 93% of respondents to an Institute survey indicated that they had a better understanding of how their program was innovative as a result of applying for the award, and, most significantly, 84% said the application had prompted them to explore additional opportunities for innovation in their work.
Hailed by BusinessWeek magazine as "the man who invented management," Drucker not only consulted for major corporations; he also advised the Girl Scouts of the USA, the Red Cross, the Salvation Army and countless other social-sector organizations. He called the nonprofit "America's most distinctive institution."
The 2013 first-place Drucker Award winner was Boston Medical Center. The judges recognized Boston Medical Center for its efforts to ease patients' transitions from hospital to home. Under the Reengineering the Discharge Process initiative, launched in 2003 and known as Project RED, the team developed and tested 11 mutually reinforcing components that define a high-quality hospital discharge. An avatar named "Louise," a virtual patient advocate, helps hospital staff to administer the components. Complementing the digital assistant's work is a decidedly lower-tech tool: an individualized, spiral-bound color booklet, which is highly accessible to discharged patients with limited health literacy. A randomized control trial, performed in 2009 with 749 patients, found a 30% lower rate of hospital utilization in the RED intervention group compared with usual care within 30 days of discharge.
About the Drucker Institute
The Drucker Institute at Claremont Graduate University strengthens organizations to strengthen society. It does this by turning Peter Drucker's ideas and ideals into tools that are both practical and inspiring. Major corporate CEOs, social sector leaders and government officials all use these tools to make their organizations stronger. For more information, please visit: http://www.druckerinstitute.com.
About Claremont Graduate University
Founded in 1925, Claremont Graduate University is the graduate university of the Claremont Colleges. Our five academic schools conduct leading-edge research and award masters and doctoral degrees in 24 disciplines. Because the world's problems are not simple nor easily defined, diverse faculty and students research and study across the traditional discipline boundaries to create new and practical solutions for the major problems plaguing our world. A Southern California based graduate school devoted entirely to graduate research and study, CGU boasts a low student-to-faculty ratio.
About The Coca-Cola Foundation
The Coca-Cola Foundation is the global philanthropic arm of The Coca-Cola Company. Founded in 1984, The Foundation has invested more than $660 million to support sustainable community initiatives focused on replenishing water, empowering women and enhancing the overall well-being of people and communities. For more information about The Coca-Cola Foundation, please go to http://www.coca-colacompany.com/our-company/the-coca-cola-foundation.