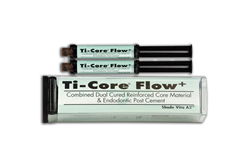 Hackensack, NJ (PRWEB) April 01, 2014
Essential Dental Systems, Inc. (EDS) is proud announce New and Improved Ti-Core Flow+ and New and Improved Ti-Core Auto E. EDS has united the superior qualities of both a core build-up material and luting cement to provide a highly versatile, economical, multi-use composite.
New and Improved:
Enhanced NANO Particle Technology
Increased Radiopacity
40% Stronger
Easier Flowability
Available immediately through dental dealers worldwide. For more information on this product, please visit http://www.edsdental.com/tc2+1/promo.html or call 1-800-223-5394. A Special 2+1 Offer is also available by visiting the link provided, or by calling Essential Dental Systems (EDS) directly.