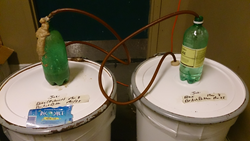 "Water is arguably the most critical and least understood of the foundational elements in brewing beer"John Palmer, Author of 'Water: A Comprehensive Guide for Brewers'
Cambridge, Ontario (PRWEB) April 03, 2014
Jeff Chcoski, owner/operator of Niagara Brew Club in St. Catharines, Ontario conducted a trial on three different beer varieties using water produced by the ESIL water treatment system. The ESIL system employs the 'electrolysis of water' theory developed by Michael Faraday, (laws of electrolysis). ESIL produces water that is free of organics, heavy metals, (prescription drugs, uranium, arsenic, mercury, lead, aluminum, cyanide etc.) yet maintains the positive minerals necessary for optimum health.
A joint collaboration between ESIL and Niagara Brew Club was undertaken to determine the effects on beer production if the water was void of impurities, such as Chemical Oxygen demand, (COD) and Biological oxygen demand, (BOD).
The Theory: Discover whether removing competition for oxygen (COD and BOD from the water) at the first stage of fermentation would leave more oxygen available to the yeast and show measureable results.
The experiment: Take three of Niagara Brew Club's most popular beer recipes and make two identical batches of each, (6 in total). The only variable being the water produced by ESIL was used in three of the batches and the NSA approved water for the other three. The ESIL system used the same water source as the brewery but of course processed using the ESIL system.
The results:
Analytical results
1) Fermentation – was more rapid using ESIL water compared with NSA approved system. ESIL batch on left, NSA water on right.
2) Boiling – On all three occasions, ESIL water came to a boil quicker
3) Alcohol Content – 2 of the 3 beers, based on specific gravity testing indicated 0.5% higher alcohol content in the ESIL produced beer. Third batch showed no change in alcohol content.
Subjective Results
1) Taste – with all three samples the finished product (ESIL produced beer) was clearer and had a smoother finish.
Conclusions:
An overwhelming conclusion is that water plays a major role in the brewing process. Brewers are becoming more conscious of the effects source water has on their beer as shown by the recent publication of, Palmer and Kamininski's, "Water: A comprehensive Guide for Brewers".
Based on the observations, brewers looking at optimizing their process, expansion or controlling energy costs can extrapolate the above results to their own process. If fermentation can occur 10 - 20% quicker, this translates into additional production capacities (batches of beer). Increased capacity can lead to hundreds of thousands of dollars in extra product utilizing the existing 'footprint' of the brewery.
When a brewer can save energy in boiling costs and clientele recognize the flavor enhancements and clarity of their finished product, brewers can capitalize on a treatment process that fits into the goal of the craft brewing industry - providing high quality products by utilizing high quality ingredients.
Going Forward – As craft brewers continue to hone their process and look to the future with ideas on growth, market penetration and expansion, the ESIL water treatment system and the water quality it produces can certainly be a part of that process which brewers and their clientele will appreciate for years to come.
ESIL Water will be attending the Craft Brewers Conference at the Colorado Convention Center April 7th-11th as the official water suppliers to the show. If you have any questions or require further information please feel free to contact Bryan Box at bbox(at)esilwater(dot)com or visit http://www.esilwater.com/cbc14 for an overview of ESIL and the craft beer industry.
For the full report use link below;
http://www.esilwater.com/cbc14/NBC.html