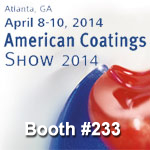 Come See How We Can Solve Your Toughest Problems at ACS Booth #233!
(PRWEB) April 03, 2014
The Georgia World Congress Center in Atlanta Georgia will be hosting the American Coatings SHOW (ACS) April 8-10th, 2014. Avomeen Analytical Services will be presenting their chemical analysis and product development services at booth #233 for this exposition's attendees. ACS anticipates over 7,500 industry professionals to be in attendance representing companies from around 70 countries.
All of these individuals attend the American Coatings SHOW to learn the newest developments in the paints and coatings industry, including new raw materials, testing equipment and services, and an extensive range of production equipment. The show also facilitates high-level informational exchange among industry leaders through conferences and face-to-face meetings.
Avomeen Analytical Services provides customized coating analysis and product formulation development. From routine contamination analysis and VOC testing to complex failure analysis and product development, Avomeen's laboratory does it all. As an international provider for customized services, the American Coatings SHOW is the perfect place to present their unique offerings to a worldwide audience.
Their laboratory is FDA-registered, DEA-licensed, and cGMP-compliant, and Avomeen's formulation development and custom chemical analysis come with extensive quality assurance. Ph.D. scientists comprise over 1/3 of their staff and the segregated laboratories are equipped with state-of-the-art instrumentation to solve nearly any problem and create a wide range of innovative coatings products.
Avomeen invites all ACS attendees to visit their scientists at booth #233 to speak directly with an Avomeen chemist and determine how Avomeen can solve their toughest problems through analytical chemistry.
More about Avomeen's coatings services can be found on their website at http://www.avomeen.com/coatings or by calling 800.930.5450 to speak to a Ph.D. chemist today.