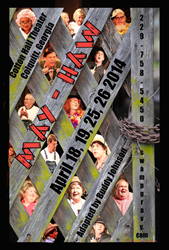 May-Haw is all about the fun...just pure, lighthearted enjoyment.
Colquitt, Georgia (PRWEB) April 03, 2014
If laughter is truly the best medicine, then audience members will be glowing with health leaving a performance of "May-Haw," Colquitt's Own Variety Show. "May-Haw" combines lighthearted comedy, goofy characters, toe-tapping Country tunes, soul-stirring Gospel, and a moving Veteran tribute to create a family-friendly evening of entertainment audience members are not likely to forget.
The Colquitt/Miller Arts Council is best know for its flagship production, "Swamp Gravy," which is Georgia's Official Folk Life Play. Swamp Gravy features true tales of life in Southwest Georgia and all its ups and downs, but May-Haw is something completely different. "May-Haw is all about the fun," says Kate Willis, Artistic Director for the Arts Council, which produces the show. "There's no drama, no deep meaning, just two hours of pure, lighthearted enjoyment."
While the name and structure of the show remain the same, each April finds a brand new version of "May-Haw" on the stage at Cotton Hall. New scripts, new songs, and slight changes in the cast guarantee a new experience that, at the same time, feels comfortingly familiar. The production is timed to coincide with the National Mayhaw Festival in Colquitt, which this year falls on April 18 and 19th.
Performances run April 18, 19, 25, and 26th, with showings at 7:30 on Fridays and 2:00 and 5:30 on Saturdays. Tickets are just $15 per person, and can be purchased at http://www.swampgravy.com or by calling 229-758-5450.