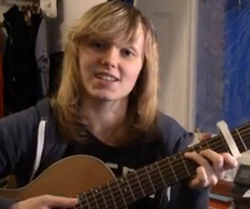 (PRWEB) April 01, 2014
"This version of the song the chords used can be played along with the CD without using a Capo", says Norman, "I use a Capo on the 3rd fret because it makes it easier for me to sing". Beth starts off this easy beginner acoustic guitar lesson by going over the chords used for the song which are; C, D, Dsus4 (D suspended 4), G, Em and Bm. Next she goes over the three chord progressions used in the song. First is the Chorus; C, G, D, Em, C, G, D and Dsus4, which she says you play each chord for four beats played as four down strokes and then one up stroke counted as 1 2 3 4 &. Beth continues by going over a more advanced strumming pattern that can be used as well. Next Beth goes over the chord progression for the verse which is; Em, C, D, Bm, Em, C, D and Dsus4, the strumming pattern is the same as it was on the Chorus. And finally Beth explains how to play the bridge as using the chords; Em, C and D. Complete chord charts and guitar TAB's for this easy beginner guitar lesson can be found at SongTabs.com.
A Capo, short for capotasto, which is Italian for "head of fret board", is a device used on the neck of a fretted instrument to shorten the playable length and raise the pitch.
Michael David Rosenberg, aka Passenger, is an English Folk Rock singer-songwriter from Brighton England. He was previously the lead vocalist for the band Passenger, 2003-2009, but decided to keep the name for himself when he went solo in 2009. Over the course of his career he has performed on five studio albums. In 2013 he received the award Best Singer Songwriter from the Independent Music Awards and Song of the Year from Galgalatz Israeli annual international song chart.
Beth Norman
Started playing the guitar at the age of 15 and started her first band only after 3 months of playing. She put up her first YouTube tutorial video in 2009 and has gained 40,000 subscribers and over 8 million views and counting.
About SongTabs.com
SongTabs.com is a great online resource for learning to easily play your favorite songs on the guitar. With several great instructors and a constant growing catalog of songs, everyone can learn to play there favorite songs.