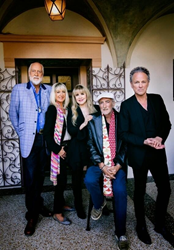 Denver, Colorado (PRWEB) April 02, 2014
Fleetwood Mac is back, especially now that Christine McVie has re-joined the group. After a 15-year hiatus, the singer/songwriter has finally returned to her familiar place behind the electric piano; and for the millions of Fleetwood Mac faithful, as well as the band members themselves, it is a wish finally fulfilled.
The Lancashire-born Christine McVie joined the fledgling Fleetwood Mac in 1970, four years before Americans Lindsey Buckingham and Stevie Nicks were invited in. Before signing on (and marrying Mac bassist John McVie), the artist was known around England as Christine Perfect, and she had already won acclaim as the songwriter and frontwoman of the blues-rock band Chicken Shack.
"McVie last toured with Fleetwood Mac in 1997 following the group's live album The Dance," said Marta Ault at online ticket marketplace BuyAnySeat.com. "Fortunately, the warm reception she received during a guest appearance with the band in London last year has helped reduce her reluctance to tour with the group again."
"Now with the band's upcoming 34-date North American reunion tour, dubbed On With the Show, the opportunity to see the original group together again is sending ticket sales to the top of the charts. That's why we're proud to offer fans the most complete and continuously refreshed selection of tickets online, with a worry-free guarantee to protect their purchase," added Ault.
"To access the complete listing of Fleetwood Mac tickets we currently have available, fans can go to BuyAnySeat.com and search for Fleetwood Mac – then select their tickets."
After 1997, McVie was present for the group's induction into the Rock and Roll Hall of Fame in 1998, but bowed out shortly thereafter. She played on two songs on "Say You Will," a 2003 set, but wasn't credited as a member of the group. McVie also released a solo album in 2004 called In the Meantime.
Fleetwood Mac did not reach resounding commercial success until seven years after Christine McVie joined her husband-to-be on stage. After Lindsay Buckingham and Stevie Nicks joined the group as a team on New Year's Eve in 1974, the band achieved acclaim with the release of Number One albums Fleetwood Mac in 1975 and Rumours in 1977.
Once the band hit the big time, McVie kept on penning hits such as "You Make Loving Fun," "Think About Me," "Hold Me," and "Say You Love Me." It has been 45 years since Fleetwood Mac's first album, and 35 years since their best-selling Rumours album, which has sold over 45 million copies worldwide, making it the fourth-highest-selling album of all time. (Source: wikipedia.org)
Now decades later, many of the major-label pop acts have been making their Fleetwood Mac influence known. One example is "Days Are Gone," the debut album by California trio Haim. In addition, Paramore, Brandi Carlile, Lykke Li and Jenny Lewis have proudly covered Fleetwood Mac songs.
Fleetwood Mac is also revered in Nashville, where bands like Little Big Town and Lady Antebellum mimic their arrangements and harmonies. Taylor Swift has also been proudly borrowing from Fleetwood Mac since the beginning of her career. In fact, according to reviewers, Swift's understanding of pop architecture and firm hand with a love story strongly resemble Christine McVie's.
Last year, Fleetwood Mac Live 2013 was the band's first tour since 2009. Both Stevie Nicks and Lindsey Buckingham released solo albums and toured last year as well, but the band itself hasn't released an album since 2003.
McVie says that her decision to leave the band was very simple. "I had some deluded idea that I wanted to live the 'country lady' life," she told Rolling Stone. "But I went through a divorce and I felt isolated in the country. I grew quite ill and depressed."
Now with the return of Christine McVie, who will add her distinctive vocal harmonies and precise piano parts to the group's world-famous songs. the group will be able to perform songs like "Over My Head", "Little Lies", "You Make Loving Fun", "Everywhere" and many other songs they haven't been able to play in nearly 20 years.
No wonder tickets to see the Rumours-era lineup including Stevie Nicks, Lindsey Buckingham, John McVie and Mick Fleetwood on their latest reunion tour have become so popular.
To shop for Fleetwood Mac tickets, visit BuyAnySeat.com.
About BuyAnySeat.com: An online ticket marketplace, BuyAnySeat.com connects sports, theater and other live entertainment fans to an extensive worldwide network of ticket sellers. The site's simplified listings and navigational tools enable fans to easily locate, compare and purchase inexpensive, discounted or lower-priced tickets to virtually all advertised sports and entertainment events around the globe.
The site, which is PCI-compliant and Norton Secured, also provides customers with a complete Worry-Free Guarantee on all ticket purchases. Based in Denver, Colorado, BuyAnySeat.com is a subsidiary of Denver Media Holdings. For more information, please visit http://buyanyseat.com.