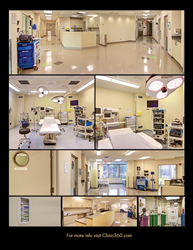 Toronto, Ontario (PRWEB) April 03, 2014
Introducing Clinic 360, a brand new, fully accredited surgical facility in Toronto that specializes in cosmetic, plastic, bariatric surgery and reconstructive procedures.
Clinic 360 is a 10,000 square foot contemporary facility that houses both surgical and non-surgical departments for the option of a total body transformation. The list of services offered is quite extensive due to the type of technology and the staffing of the city's most experienced and skilled team of board certified physicians.
Each surgeon at Clinic 360 specializes in their chosen field. Surgical procedures range from breast augmentation and liposuction to rhinoplasty and vaginoplasty. Patients are provided with the care and amenities of a hospital, but with more privacy, and personalized one-on-one care.
Clinic 360's philosophy is to provide the utmost highest standard of care to every single patient. Safety has been and always will be, the first priority followed right behind providing patients with their desired results. They also strive to be on the forefront of plastic surgery by offering exciting educational seminars and workshops for continued education and insight for both staff members and patients.
Non-surgical procedures include various anti-aging treatments, dermal filler injections and innovative procedures such as laser therapy procedures to treat snoring.
With the wide array of treatment options available, Clinic 360 offers complimentary (free) consultations, to ensure that patients are provided with the correct treatments for any of their aesthetic concerns.
Clinic 360 looks forward to witness the life changing results of their patients.
About Clinic 360
Clinic 360 opened in 2013 and strives to be on the forefront of cosmetic and plastic surgery, by offering the most innovative and advanced treatment options. Located in Leaside, Toronto, the facilities resemble a modern hospital in a comforting clinical atmosphere. For more information please visit, official website, http://www.clinic360.com.
Social Media Links
Like Toronto Cosmetic Clinic on Facebook Clinic360Toronto
Follow Toronto Cosmetic Clinic on Twitter @clinic360
Follow Toronto Cosmetic Clinic on Instagram @clinic360#
Media Contacts:
Alina Tsymbalarou
416-360-7-360
alina(at)clinic360(dot)com