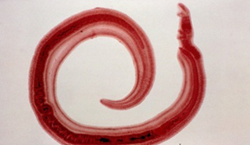 Preventing and controlling Schistosomiasis relies on the availability of reliable and cost-effective methods of detection in the field.
Kent, WA (PRWEB) April 02, 2014
A leading producer of laboratory filtration equipment is encouraging wider adoption of its all-in-one Schistosomiasis field urine test kit. The Sterlitech Schistosome Test Kit contains everything necessary to perform a large number of fast, accurate, on-site urine tests for Schistosome eggs without the need for complicated equipment. The Kit is also ideally suited for use in the field, particularly in resource-poor areas where the parasitic disease persists at endemic levels.
While the disease is considered relatively easy and inexpensive to treat, methods of affordable and manageable field detection for Schistosomiasis have historically been lacking. "Preventing and controlling Schistosomiasis relies on the availability of reliable and cost-effective methods of detection in the field," said Mark Spatz, Founder and President of Sterlitech. However, most conventional testing methods for Schistosomiasis – including serologic testing, PCR, Fast Dot ELISA, and filtration tests of feces and urine – require a sterile lab with trained personnel and expensive supplies.
"Our Schistosome Test Kit marks a huge leap forward in aiding the efforts of countries, NGOs and private humanitarian organizations who often find themselves at the mercy of fluctuating budgets and scarce personnel," said Spatz. "We hope our kit will experience widespread use in the field, so affected populations can be identified and treated more swiftly and effectively."
Each Sterlitech Schistosome Test Kit comes complete with 500 screen Polycarbonate Membrane Filters (13 mm diameter), Swinney filter holders, syringes, forceps, and a convenient plastic carrying case. In addition, filters are offered in different pore sizes – 12.0, 20.0 and 30.0 µm – a vital consideration since some urine samples may contain proteins that clog 20 µm filters and hinder the isolation of parasitic eggs.
Schistosomiasis is a chronic, parasitic disease second only to Malaria in its devastating impact to low-income areas of Africa, Asia and the Americas. According to the World Health Organization, over 250 million are currently infected and another 600 million are at risk for infection.
For more on Schistosomiasis, its impact and how the Sterlitech Schistosome Test Kit could help turn the tide in the fight against this disease, click here to view Sterlitech's new white paper.
About Sterlitech Corporation:
Sterlitech Corporation provides superior laboratory products, specializing in flat sheet filter membranes and bench scale testing equipment for a variety of industries, including the occupational health and safety, petrochemical, fossil fuels and biotech industries. For precision and accuracy, Sterlitech's membrane disc filters, filter holders, silt density index test kits, and syringe and capsule filters consistently relied upon to assure exceptional results.