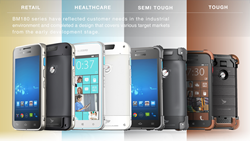 Seoul, Korea (PRWEB) April 03, 2014
Bluebird announced that the company has been selected as the Finalist for IDEA Awards 2014 with its innovative Smart Terminal BM180. Winning this award contributed for Bluebird to the achievement of grand slam in global top 3 design awards for two consecutive years. The company has already won three Reddot Design Awards last month with BM180, MT760, and EP300 Series, as well as 'IF Awards' with EP300 Series in February.
The award-winning BM180 is designed to integrate a range of functionality combining mobile computing and payment capabilities while retaining a slim and sophisticated form factor. The device is the world's first 5-inch handheld computer that can run both Windows Embedded 8 Handheld and Android 4.2 platforms in a single device with a built-in barcode reader, magnetic stripe reader and contactless payment functionality. With its significant functional enhancement, the BM180 has various design character offerings to meet different industry needs coming from Retail, Healthcare, T&L to Field Service.
From the initial stage development, Bluebird design team has constantly worked on creating the most user-friendly device that delivers maximized business efficiency, which has been greatly recognized in the global market by sweeping prizes at the 'IF Awards', 'Reddot Awards and 'IDEA'.
IDEA (International Design Excellence Awards) Award
Started in 1980 by IDSA, International Design Excellence Awards (IDEA) is one of the most preeminent international design competitions honoring design excellence in products, ecodesign, interaction design, packaging, strategy, research and concepts. Entries comes from over 41 countries and the winning designs are to be introduced around the world through media sponsors.