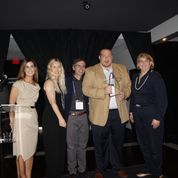 We are pleased to accept Cisco's Acceleration Learning Partner of the Year Award for 2014.
Las Vegas, NV (PRWEB) April 02, 2014
NterOne Corporation today announced that it is the recipient of the Cisco Acceleration Learning Partner of the Year. Cisco unveiled the winners of its 2014 Learning Partner Awards at its Global Learning Partner Conference, March 23, 2014, in Las Vegas.
Cisco Learning Partner Awards are designed to recognize exemplary Learning Partners and Business Learning Partners that demonstrate best-in-class channel business practices and serve as a model to the industry. Areas of consideration include collaboration with Cisco and other Learning Partners; innovation in developing new programs to enhance the learner experience; acceleration of growth; and top quality, recognizing an overall commitment to the highest-quality training and enablement.
"We are pleased to accept Cisco's Acceleration Learning Partner of the Year Award for 2014. Our advanced technical solutions for both our partners and customers this past year have contributed directly to our growth. We are honored to be recognized by Cisco for this achievement," says Brandon Yohn President and COO of NterOne. "We will continue to innovate our training delivery and the overall customer experience by bringing new and exciting products to market over the course of 2014. We have committed to Cisco to drive innovation by leveraging their Data Center, Collaboration, Borderless, and Security architectures to not only provide real-world labs to our customers, but also to drive the operations of our own business."
"Cisco Learning Partners and Business Learning Partners are an essential element of the Cisco channel strategy, providing best-in-class technical and business readiness authorized training for Cisco® networking solutions," said Rachel Forke, director, Worldwide Learning Partner Channel for Cisco. "The awards this year are centered around the theme of 'what drives you,' recognizing partners that are driving cutting edge approaches to Cisco channel and customer enablement. With this recognition, NterOne further demonstrates its capabilities in the channel and commitment to its partnership with Cisco."
About NterOne:
NterOne is a global training and consulting company focusing on live online training, self-paced e-learning, and private onsite training. The company is headquartered in Reston, VA, but mainly operates virtually by allowing their employees to work out of their home office to reduce the company's overall carbon footprint. NterOne is a Cisco Learning Partner, and a VMware Authorized Training Center, and operates their own Data Center in North Carolina. The company's key technology focus areas are Virtualization, Data Center, Routing and Switching, Voice, Collaboration, Optical, Wireless, and Security.
For more information, please visit the corporate web site at http://www.NterOne.com.
NterOne is a registered trademark of NterOne Corporation in the United States and/or other jurisdictions. All other marks and names mentioned herein may be trademarks of their respective companies.
Cisco and the Cisco logo are trademarks or registered trademarks of Cisco and/or its affiliates in the U.S. and other countries.