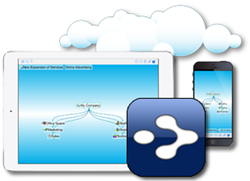 Most file synchronization and note taking apps help users to capture and sync data, but fall short when it comes to creating a meaningful network of knowledge that provides a larger context for mindful insight and recall
Los Angeles, CA (PRWEB) April 02, 2014
TheBrain Technologies, the leading provider of dynamic visualization and knowledge management software, announced its newest release, TheBrain for iPhone and iPad now available worldwide on the App store.
TheBrain for iOS combines the best of note taking, file synchronization and mind mapping apps to give users the ultimate digital memory on their iPhone and iPad. TheBrain for iOS works with TheBrain desktop application and users' Cloud accounts providing universal access to ideas, notes, files, in addition to visualizing how everything is related. TheBrain for iOS is a native app so users can create new Brains, add new Thoughts, take notes, link web pages, and attach photos right from the iPhone and iPad.
TheBrain's unique approach to information organization enables users to create and link together thousands of digital Thoughts. A Thought can represent an idea or topic as well as link to any number of files and web pages. TheBrain software has been downloaded over two million times and over half of the Fortune 100 organizations use TheBrain for digital brainstorming, project management, and as a complete knowledgebase to find and connect all their information.
"Most file synchronization and note taking apps help users to capture and sync data, but fall short when it comes to creating a meaningful network of knowledge that provides a larger context for mindful insight and recall," said Harlan Hugh, TheBrain Technologies' CEO. "With TheBrain for iOS you can create an intelligent network of information right on your iPhone or iPad and synchronize your Brain across all your devices."
TheBrain for iOS has powerful information capture and file synchronization features including:

AWARD WINNING VISUALIZATION – Navigate across all key topics and information within your Brain's Thought network and connections.
iOS, CLOUD AND DESKTOP KNOWLEDGE CREATION – Your Brain can be accessed anywhere. Ideas, notes, links, Tags and files are available on all devices including Windows and Mac computers, iPhone, iPad and iPod touch and most Web browsers.
DYNAMIC MIND MAPPING – Move beyond conventional mind maps and linear folder storage with TheBrain's animated links and visualization that enable any Thought or file to be connected to anything else.
EASY IDEA CAPTURE – Just type in a new Thought, make a connection or take a note. Your Brain stores it all.
POWERFUL SEARCH – Find any file, web page or idea in seconds.
VISUAL FILE MANAGEMENT – Add web pages, photos and documents to Thoughts - All linked in a way that reflects your thinking and business relationships.
NO LIMITS BRAINSTORMING AND IDEA MAPPING – See your ideas, make connections and gain new insights in TheBrain's visual interface.\
TOOLS TO GET STARTED QUICKLY – Get ready-built template Brains for brainstorming, project management and personal organization.
COLLABORTION AND BRAIN SHARING – Publish and share Brains on the cloud. You can even synchronize Thoughts with team members privately.
TheBrain for iOS Pricing and Availability
TheBrain for iOS is a free app for all Brain users who have a Brain Cloud services account. Users can simply login with their existing cloud services account and all their Brains are right there!
Get TheBrain for iOS on the app store at https://itunes.apple.com/app/thebrain-for-ios/id835873357
TheBrain desktop application can be downloaded at http://www.thebrain.com and is offered in two editions: Free and Pro. TheBrain Pro offers unlimited file management, advanced search, secure cloud backup, and much more. You can purchase TheBrain Pro as a desktop license only for $219 or with both the license and one year of services for $299, which includes future upgrades and the full suite of online sync and other cloud services.
About TheBrain Technologies
TheBrain Technologies helps people see, share and find information faster. TheBrain software helps organize and capture ideas, projects and information on the desktop, in the cloud, and in the mind's eye.
Download TheBrain at http://www.thebrain.com and TheBrain for iOS at http://itunes.com/app/TheBrainForiOS to visualize your thinking or e-mail info(at)thebrain(dot)com for more information