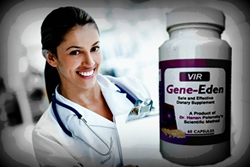 We recommend that in addition to getting enough sleep, individuals take Gene-Eden-VIR to help restore normal energy levels and reduce fatigue. - Mike Evans, polyDNA
Rochester, NY (PRWEB) April 03, 2014
Research shows that sleep deprivation harms the immune system. Many Americans who do not get enough sleep need to be aware of this finding. "According to the most recent poll by the National Sleep Foundation, 43 percent of Americans between the ages of 13 and 64 rarely or never get a full night's sleep during the work and school week (1)." Because of this lack of sleep and the resulting effect on the immune system, latent viruses such as the Epstein Barr Virus (EBV) that infects most people, will start to replicate and increase in numbers. Research shows that in high numbers, latent viruses cause fatigue. Therefore, polyDNA suggests reducing the numbers of latent viruses in the body to reduce physical and mental fatigue.
Researchers in another study wrote that "we confirmed that sleep deprived people are perceived as more fatigued, less attractive, and even less healthy than when they are rested." (See the journal Sleep, from September 2013) (2). But, looking less attractive is the least of their problems. Another study found that "sleep deprivation shifts immune activity toward cell-mediated immunity (TH1 activity) rather than toward humoral immunity (TH2 activity). Optimal immune function involves both of these types of immune activity. If the balance between TH1 activity and TH2 activity is altered immune function can be compromised." (See Critical Care Nurse, from April 2012) (3). The bottom line, according to these researchers, is that "Lack of sleep is associated with many diseases, including infection, and with increased mortality (death) (3).
In a normal, healthy individual, the immune system prevents latent viruses from reactivating, and thus keeps them from causing harmful symptoms. Once the immune system is compromised, the latent viruses go on the attack. In high numbers, they can cause fatigue, and even a major disease. Fatigue is a condition that includes psychological, social, and physiological aspects. In fact, "Studies associate the feeling of fatigue with a sense of tiredness, lack of energy, a feeling of exhaustion, and impaired physical and/or cognitive performance." (See Pharmacology & Pharmacy, from March 2014) (4).
"We recommend that in addition to getting enough sleep, individuals take Gene-Eden-VIR to help restore normal energy levels and reduce fatigue," - Mike Evans, polyDNA
polyDNA recommends that individuals who are fatigued ask their doctors for a blood test that identifies the existence of a latent infection with EBV or CMV (human cytomegalovirus), two of the most common latent viruses. If positive, that individual should then speak to their doctors about Gene-Eden-VIR. This natural antiviral targets the latent EBV and CMV, and was recently proven to reduce mental and physical fatigue in a post-marketing clinical study that followed FDA guidelines (4).
This is the second time that a peer reviewed medical journal published a paper reporting a clinical study on Gene-Eden-VIR's, patent protected, natural formula. The first paper, entitled "Gene-Eden-VIR Is Antiviral: Results of a Post Marketing Clinical Study" was published in September 2013 and can be found at:http://www.scirp.org/journal/PaperInformation.aspx?PaperID=36101#.UzQEv6iSz90.
To view the entire paper on Gene-Eden-VIR and fatigue, visit: http://www.scirp.org/journal/PaperInformation.aspx?PaperID=44234#.UzQC5KiSz90.
For more information on Gene-Eden-VIR please visit the product's official website at: http://www.gene-eden-vir.com.
We invite the media to contact us for interviews at: note (AT) buy-gene-eden.com or phone 585-250-9999. All orders of Gene-Eden-VIR are completely confidential, and no information is shared or sold to any third party. Privacy is assured.
References:
(1) Jet Lag, Late Nights, And Naps Disrupt Gene Function, New Study Shows. Published on January 22, 2014.
http://www.forbes.com/sites/melaniehaiken/2014/01/22/jet-lag-and-working-at-night-disrupts-your-genes-new-study-shows/
(2) Cues of fatigue: effects of sleep deprivation on facial appearance. Published on September 1, 2013.
http://www.ncbi.nlm.nih.gov/pubmed/?term=Cues+of+Fatigue%3A+Effects+of+Sleep+Deprivation+on+Facial+Appearance
(3) Sleep and immune function. Published in april 2012.
http://www.ncbi.nlm.nih.gov/pubmed/22467620
(4) Gene-Eden-VIR Decreased Physical and Mental Fatigue in a Post Marketing Clinical Study That Followed FDA Guidelines; Results Support Microcompetition Theory. Published in March 2014.
http://www.scirp.org/journal/PaperInformation.aspx?PaperID=44234#.UzfrpqiSz90
polyDNA is a biotechnology company that develops dietary supplements using the unique scientific method developed by Dr. Hanan Polansky, which is based on Computer Intuition.
In addition to his unique scientific method, Dr. Polansky published the highly acclaimed scientific discovery, called Microcompetition with Foreign DNA. The discovery explains how foreign DNA fragments, and specifically, DNA of latent viruses, cause most major diseases.
polyDNA developed Gene-Eden-VIR, an antiviral natural remedy that helps the immune system kill latent viruses.