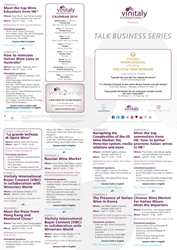 This is our chance to gather together the players we've met in the field – importers, sommeliers, journalists - and bring them home to Verona for a series of substantive, thought-provoking seminars.
Verona, Italy (PRWEB) April 02, 2014
Vinitaly International announces today the program of its "Talk Business Series," to debut at the 48th edition of Vinitaly. These eight seminars designed to give a 360-degree overview of the business of Italian wine in China, Hong Kong, Russia, the US, Korea and Australia will include panel discussions with importers, educators, sommeliers, and journalists from each market.
The series opens Sunday, April 6th, with "Meet the Press from Hong Kong and Mainland China" (Press Room, 14:30) and "Russian Wine Market" (Press Room, 16:00). Moderating the Russian seminar will be Anton Moiseenko, a wine journalist with experience in importing. "It's going to be very interesting what happens in the Russian market, for all producers, because of the political and economic situation," observes Moiseenko. "Russia is being sanctioned for what's happening in the Crimea, and we expect bigger isolation for the Russian market, more problems with import. The ruble is being devaluated, and we have to try to understand how this will effect wine purchasing patterns, and the ability of producers to be successful in the market."
Monday, April 7th (Sala Bellini, 14:30), a panel of American wine journalists and promoters come together for "Navigating the Complexities of the US Wine Market: the three-tier system, media relations and more." "One of the major challenges of the US market is that it's really made up of dozens of smaller markets," observes panel participant Steve Raye, principal at the wine and spirits marketing firm Brand Action Team. "The US is big, but you want to focus on specific markets, even segments of those markets. And ultimately building your brand in the US is your responsibility – the importer and distributors can help, at the end of the day it's the job of the producer."
Following the US panel a Korean contingent will convene to discuss "The Presence of Italian Wine in Korea" (Sala Bellini, 16:00). "South Korea is a market of great potential to develop," affirms panel moderator Claire Kyunghwa Nam, London-based freelance wine communicator and Master of Wine candidate. "In 2013, the country imported more wine by volume and value than ever before, and continued growth is expected. Italy is currently the 3rd largest wine exporter to South Korea, and we believe it has far more to offer to the Korean consumers, who are becoming more open to trying new wines from different countries, regions and varieties. We hope Italy can satisfy their thirst with a great diversity of wines from its many regions. In this seminar, we will give a snapshot of the dynamic Korean wine market, including hands-on advice from active retailers and importers in the market."
Tuesday, April 8th, the conversation returns to China and Hong Kong, with three back-to-back seminars, beginning with "Meet the top sommeliers from HK: how to better promote Italian wines in HK" (Press Room, 14:00), followed immediately by "Chinese Wine Market for Italian Wines: Meet the Importers" (Press Room, 15:00). Chinese panel participant Anthony Zhang, manager of Hoonay Wines importers, describes the challenges of this fast-growing market: "China is like a white board to paint on – even if you are the most important winery in the world, in China you are still unknown. Wineries should approach the Chinese market with willingness, patience and humility, but it is evident that it is a major challenge for the EU producers to face the reality of the Chinese world of business. Intelligent marketing and organized conferences sharply focused around 'wine culture' are a good way to achieve this goal."
The day concludes with "Meet the Top Wine Educators from HK" (Press Room, 16:00), addressing a much more developed Asian market. "Hong Kong wine lovers are perhaps the most sophisticated and discerning in the world," affirms panel participant JC Viens, Hong Kong-based wine educator. "They are opinion leaders for Asian markets, especially China. Key to this position is Hongkongers' unquenchable thirst for information and knowledge. The seminar will analyse the stunning success of the UK's WSET in Hong Kong, offer insights on how best to support its educational efforts, and define the profile of Hong Kong wine education consumers." The series concludes Wednesday April 9th with "How to stimulate Italian Wine Sales in Australia" (Sala Salieri, 10:00).
The Talk Business Series is part of Vinitaly International's efforts to create an global think- tank for Italian wine. As Managing Director of Vinitaly International Stevie Kim explains, "In reality, Vinitaly is such a hectic time for people who come here to do business, that this year we're also going to dedicate a new event to the business of wine, called Wine2Wine, which will be held December 3-4 here in Verona. But during Vinitaly, we take advantage of having so many important players from all aspects of the wine industry, to bring them together for a series of substantive, thought-provoking seminars. This year, the series highlights the countries that Vinitaly International visits on its world tour: China, Hong Kong, Russia, and the US. This is our chance to gather together the players we've met in the field – importers, sommeliers, journalists - and bring them home to Verona."
About:
Veronafiere is the leading organizer of trade shows in Italy including Vinitaly (http://www.vinitaly.com), the largest wine event in the world. The 47th edition of Vinitaly counted some 148,000 visitors (+6%), of which 53.000 were international attendees (+10%) visiting from 120 countries. On 95.000 square meters, 4.200 exhibitors welcomed trade professionals, media and producers alike. The next installment of the fair will take place on 6th- 9th April 2014. The premier event to Vinitaly, OperaWine (http://www.vinitalyinternational.com) "Finest Italian Wines: 100 Great Producers", will unite international wine professionals on April 5th 2014 in the heart of Verona. Veronafiere also created Vinitaly International in 1998 to develop a global platform for the promotion of companies in the Italian wine and food sectors.
# # #