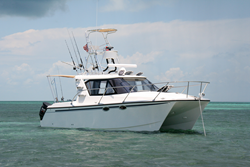 Everett, WA (PRWEB) April 02, 2014
In culmination of the Seattle and Miami boat shows, ArrowCat marine announced the milestone trifecta. "ArrowCat has delivered 60 boats worldwide with more than forty boats outside of North America. We've maintained this level of manufacturing and operations with zero debt by following strict business practices and while launching three new models in 2013. Any one of these is significant in the often fickle world of boat building and to have all three be reality is a blessing, and a curse," says Kim Stebbens co-owner and President of ArrowCat Marine.
"Customer demand is the blessing and is driving the growth." explains Stebbens, "We have found that the success of our Roger Hill designed power catamarans is making good waves in our experiencer market segment of business owners, C level executives, and pilots. To manage the growing sales funnel we have hired Travis Brandt as Director of Factory Sales and Marketing to drive our brand and growth."
"The most exciting thing I have ever experienced as a boat builder," adds Rob Harty, Vice President and co-owner of ArrowCat Marine, "is people approaching us at boat shows and proclaiming their love for ArrowCat boats based on reputation alone."
Harty adds, "It's hard to believe a downside could exist in such a positive situation, but the curse is that growth causes scaling issues and the complex schedule becomes a world-wide juggling act. Building ArrowCat catamarans is the most fun we could be doing with our lives and we are successful because our passion for our brand and our boats extends straight into the hearts of the customers and stakeholders. Our motto isn't 'the best quality, etc.' instead we focus on creating extraordinary experiences on the water, and in order to deliver extraordinary, quality must be the best. People don't buy what you do; they buy why you do it."
ArrowCat is a leading NMMA certified builder of power catamaran boats designed by world renowned Roger Hill and engineered by world renowned Gurit (formerly Hi-Modulus). ArrowCat's are hand crafted by ArrowCat Marine. Founded in 2008 ArrowCat has been proven on seven seas and four oceans and has achieved CE category B. ArrowCat US Base of Operations is 2525 Broadway, Suite 3302, Everett, WA 98201 For more information visit http://www.ArrowCat.com or call (877) 277-6999.
###