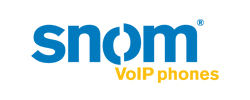 The ease of deployment and auto-provisioning via Schmooze's Manager is a real plus for both VARs and end customers looking for a simplified IP telephony deployment.
Woburn, MA. and Neenah, WI (PRWEB) April 02, 2014
snom technology, a leading developer of IP desktop business phones, announced today that its new snom 715 phone is interoperable with Schmooze Com, Inc.'s PBXact phone system and its open source counterpart FreePBX®.
snom phones can be auto-provisioned via the Schmooze Endpoint Manager, available in both FreePBX and PBXact, which allows for quick and easy installation as well as no-hassle management directly from the PBX Graphical User Interface.
The combination of snom phones and FreePBX and PBXact systems gives customers a complete, end-to-end voice solution. Value Added Resellers (VARs) will also appreciate the seamless auto-provisioning and implementation using the Endpoint Manager GUI tool.
"snom is committed to interoperability with the broadest range of SIP-based platforms, and is pleased to have completed certification with Schmooze Com's on-premise and hosted solutions," said Mike Storella, VP of snom Americas. "The ease of deployment and auto-provisioning via Schmooze's Manager is a real plus for both VARs and end customers looking for a simplified IP telephony deployment."
With over one million active production systems, and users ranging from small businesses to large enterprises, FreePBX is a VoIP phone system that has become the most widely deployed open source PBX platform in use today. The PBXact business telephone system takes all the standard features provided by FreePBX, bundles them with advanced functions and puts them in a fully commercially supported turnkey platform available in on-premise, hosted and cloud options.
"Extensively testing each new snom endpoint with our PBX platforms allows us to offer our partners, customers and user community peace of mind that when they make the decision to utilize snom hardware in their system deployments, they will see seamless interoperability that's fully supported by both snom and Schmooze," said Preston McNair, VP of Sales and Marketing, Schmooze Com, Inc.
The snom 715 is its latest phone to pass interoperability testing for Schmooze. In 2012, the entire snom 3xx line, snom 7xx line, the snom 821 and the snom M9 wireless phone were approved for the platforms.
In the past year, snom has announced interoperability partnerships with more than half a dozen innovative PBX providers, offering customers a broad range of on-premise and hosted PBX solutions.
About snom
Founded in 1996, snom develops and manufactures VoIP telephones and related equipment based on the IETF open standard, SIP (Session Initiation Protocol). Recognized for its high-quality, customizable and cost-effective business phones, snom is also differentiated by the company's history in the VoIP industry and its dedication to high security standards. All of snom's products are designed to be fully interoperable with leading communications equipment vendors. snom customers and partners benefit from the interoperability and flexibility that snom telephones offer, including plug-and-play integration and universal compatibility with standards-based SIP VoIP platforms, applications or services. In September 2011, the snom 300 and snom 821 became the first and only SIP phones to achieve "Qualified for Microsoft Lync" status – Microsoft's top distinction for fully tested interoperability and compatibility with Microsoft Lync. snom's leadership continues today, based on its six-phone UC edition portfolio – the industry's largest and most extensive family of standards-based business phones qualified for Microsoft Lync enterprise environments.
snom is headquartered in Berlin, Germany, with offices in Italy, France, the United Kingdom, Taiwan and the U.S. that support a global network of channel partners in Europe, the Americas and Asia Pacific. For more information, visit http://www.snom.com.
About Schmooze Com Inc:
Schmooze Com, Inc. manages FreePBX, the most widely deployed open source PBX platform in use across the world today with over 1 million active production systems and continues to add over 20 thousand new installations per month. Schmooze also provides FreePBX Certified Appliances, SIPStation SIP Trunks, FreePBX Pro Modules, Professional Support, a Certified Reseller and Training Program and, in addition to FreePBX, develops the PBXact turnkey premise and hosted PBX platform.