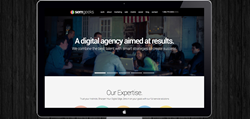 (PRWEB) April 03, 2014
SEMGeeks, a digital marketing and web development agency located in Belmar, NJ, is proud to announce the launch of its newly redesigned website, http://www.SEMGeeks.com. This state-of-the-art site was created by its in-house digital team, and the SEMGeeks team feels that it represents their forward-thinking vision and commitment to the expanding needs of their current and prospective clients in the digital media field.
The new SEMGeeks.com provides visitors with a comprehensive overview of its entire range of client support services--which include Search Engine Marketing (SEM), Search Engine Optimization (SEO), Pay-Per-Click (PPC), Web Development and Design, Social Media, Mobile Applications, Higher EDU, Branding, Consulting and more--and showcases its team's immense talent while allowing site visitors to meet its talented team and learn about how they work.
SEMGeeks takes a hands-on approach to digital marketing and web development, which is something that's immediately evident to users browsing the website. Its focus is on building long lasting relationships and being a transparent company. Throughout the site, you'll discover the clients SEMGeeks is working with and who all of the team members are, as the detailed Team page introduces you to all of the team.
Additionally, the blog now serves as an education center where site visitors can learn the most innovative and up-to-date information in the digital realm.
As a recognized leader in Digital Media and Web Development, SEMGeeks is constantly fine-tuning its processes to deliver the most comprehensive experience for our clients.