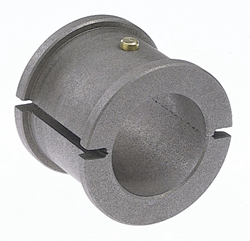 Yonkers, NY (PRWEB) April 03, 2014
Graphite Metallizing Corp now offers GRAPHALLOY® Self-lubricating Split Bushings (Type 1017) that can withstand dust, chemical attack, caustic liquids and high temperature environments.
Designed for screw conveyors, these bushings directly replace standard metal or plastic bushings. The GRAPHALLOY bushings require no oil or other lubricants eliminating a potential contaminate to the conveyed product. These Type 1017 bushings are split to provide for easy installation and replacement along the length of the conveyor.
Additionally, these split bushings provide superior performance in continuous duty operations and in applications where maintenance intervals are infrequent, or where useful life must be prolonged.
One user recently extended the life of a conveyor from three months to two years, saving over $4,000 in one unit by replacing plugged bronze with a GRAPHALLOY bushing.
GRAPHALLOY, a graphite/metal alloy, is compatible with most industrial liquids and is not affected by submersion in most acids, alkalies, hydrocarbons or liquid gases. GRAPHALLOY does not deform under load and maintains dimensional stability. Because of their long life and self-lubricating qualities, GRAPHALLOY bushings are especially suitable for installations that cannot be accessed easily, or where performing regular maintenance is difficult.
GRAPHALLOY products work where oil-based lubricants oxidize and where plastic bushings fail. GRAPHALLOY bushings are applied in refineries, paper mills, waste-to-energy plants, glass plants, steel mills and power plants. GRAPHALLOY materials are self-lubricating, withstand temperature extremes from -400°F to +750°F (-240°C to 400°C) and thrive in harsh environments where other bearings fail. Special grades provide reliable service up to 1000°F (535°C) and higher in non-oxidizing atmospheres.
GRAPHALLOY bushings and bearings are a proven solution for even the most challenging plant maintenance and new equipment design requirements.
For more information about GRAPHALLOY® products, visit http://www.graphalloy.com.
More About GRAPHALLOY and Graphite Metallizing Corporation
Graphite Metallizing Corporation of Yonkers, NY has been solving tough bearing problems for over 100 years. The company began in 1913 when two engineers developed a method for putting molten metal into carbon to create a new material called GRAPHALLOY, a graphite/metal alloy.
Used in the manufacture of bushings, bearings and other components for machinery and process equipment, GRAPHALLOY can be the solution to the toughest bearing, bushing, thrust washer, cam follower, or pillow block bearing design problem. It is available in over 100 grades with specific properties that meet a wide range of engineering solutions and specifications. FDA accepted grades of GRAPHALLOY are available for use in food service equipment. NSF® International has certified two grades of GRAPHALLOY material for use in municipal well pumps and water treatment plant applications.
 
GRAPHALLOY bearings have operated for 20 years and longer in some applications. Standard designs are available but most GRAPHALLOY products are custom designed to the unique requirements of the specific application. Graphite Metallizing Corporation is ISO certified. For more information about Graphite Metallizing and its products, please visit us online at http://www.graphalloy.com or call 914-968-8400.
------------------------------------------------------------------------------------------------------------
For more information contact:
Graphite Metallizing Corporation: Eric Ford, eric.ford(at)graphalloy(dot)com, 914-968-8400