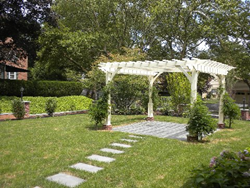 "Even the smallest room such as the powder room can be transformed through finding and adapting colors, walls, and adding pieces from all over the world and from every period," adds Vanin-Agrusa.
Bethlehem, PA (PRWEB) April 04, 2014
Having worked for two decades in New York City, Westchester County and Connecticut as an interior decorator and antiques specialist, Lucia Vanin-Agrusa is out to help today's home buyer in the greater Lehigh Valley, and Bucks County areas to find the home, and neighborhood of their dreams.
While home staging is vitally important to sell a home as quickly and as close to the asking price as possible, on the flip side, are home buyers who engage the services of a home decorator like Vanin Agrusa. By doing so, the home buyer quickly gains knowledge of a home's potential. Or in other words, is the home is a dud, or a diamond in the rough.
"Working with a designer or decorator as you look for a home is just as important as it is for a home seller to use a home stager," says Vanin Agrusa, who found her own dream home after viewing more than sixty properties on the market. Engaging the services of a visionary will also be able to identify up and coming neighborhoods.
"It absolutely makes sense for a home buyer today to engage a designer or decorator with the knowledge of home renovations, costs, and with a vision of the home's true potential," says Senior Vice President, Cassidon Real Estate Group, Robert Agentis.
"Every home buyer should have a wish list, but not many home buyers have the vision or ability to embrace the true potential of a home on the market," adds Agentis. Often, homes from the 1950s and 60s are passed over due merely to cosmetic fixes, i.e.. ripping out old carpets, window treatments, etc.
"Even the smallest room such as the powder room can be transformed through finding and adapting colors, walls, and adding pieces from all over the world and from every period," adds Vanin-Agrusa.
For Agrusa, after searching through an inventory of sixty homes in a fifty mile radius, it was love at first sight for her elegant brick Georgian Colonial.
Her first big project, among many, was to create a back yard by thinning a line of trees and building a retaining wall, and designing and constructing a pergola.
Agrusa says homes with less potential were on the market for $100,000 more in the same neighborhood. The savings from the start can be substantial, and a designer can help crunch the numbers for you.
Agentits observes, "A home buyer will benefit greatly if they know beforehand the potential and cost of design projects before purchasing. Additionally, an experienced designer will know the feasibility of certain renovations," he adds.
The concept is not new in big cities or on HGTV, however, for the average home buyer, a mere $45 to $75 an hour visit with such an expert, can save thousands in the long run.
Agrusa suggests the home buyer to create a must have checklist, and to negotiate or redesign what the home doesn't have.
Her own must have list included: a garage, a garden, a quiet neighborhood close to her daughter's school, good windows, simple elegance, and hardwood floors. She found all the above, but also got other perks, including a slate roof, a big basement, a stunning staircase, and every room with large dimensions. She removed all of the carpets, refinished the floors, painted, and created a lovely family room from a small existing porch room.
She created a backyard by thinning out trees, then designed a gorgeous garden with stately pergola.
In all, it's a win-win, sums Agrusa, as the improvements she made not only give her a beautiful home, but increase market value in the future.
Vanin Agrusa served as owner of Agrusa Antiques & Interior Décor, a group of retail stores offering Interior Decoration Services and Personal Shopping. There she refined her style of elegant simplicity in her many portfolios, incorporating various elements of materials, textures, colors and details.
Born and raised in the Italian, historic City of Padua, interior designer Lucia Vanin-Agrusa is bringing her love of elegance, fine art, antiques and interior design to the Lehigh Valley Market.
Majoring in fashion design at E.U. Ruzza Fashion & Design Institute and later specializing in high end shoe design in Italy, perhaps it is her upbringing in elegant Padua, noted for its proximity to Venice, its labyrinth of lovely pathways, bridges, and simple but elegant communal and civic spaces from Medieval times, that characterizes her style.
Specializing in interior decoration by blending fine antiques and contemporary pieces to create a unique and harmonious statement, Agrusa offers in-house consultation for detailed, personalized service, including Interior/Exterior Design & Décor, Kitchen & Bathroom Remodeling Consultation, Staging and Personal Shopper.
Ms. Vanin-Argusa email her at AgrusaAntiques(at)aol(dot)com. Find her on. For more information about Lucia Vanin Agrusa, find her on Facebook at https://www.facebook.com/LuciaVaninAgrusaAntiquesDesign.