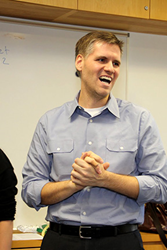 Bank Street focuses on transformative online experiences. Like our face-to-face pedagogy, our online programs develop a sense of community, peer-to-peer support and self-advocacy.
Philadelphia, PA (PRWEB) April 03, 2014
Bank Street College of Education faculty will present at the American Educational Research Association (AERA) 2014 Annual Meeting, the largest gathering of scholars in the field of education research, April 3-7, in Philadelphia, on the development and impact of online education.
"Bank Street focuses on transformative online experiences," says Virginia Roach, Dean of Bank Street Graduate School of Education. "Like our face-to-face pedagogy, our online programs develop a sense of community, peer-to-peer support, and self-advocacy."
The symposium presentation will take place this Sunday, April 6, on the topic of "Reframing Teaching and Learning: A Self-Study of Teacher Educators Developing Constructivist Models of Online Practice." Bank Street faculty members and leaders will describe the outcomes of a self-generated, self-directed faculty study group working across graduate programs to design and implement social constructivist practices online.
Sharing narrative accounts and demonstrating specific practices in monthly meetings, participants engaged in a self-study that named problems, analyzed practices, identified successes and led to increased comfort with cognitive dissonance. The process created new insights into what constitutes teaching and learning within an online constructivist context.
Last year, Bank Street College of Education was awarded a $50,000 grant to support an online fieldwork and advisement pilot for its program in Leadership in Mathematics Education. Robin Hummel, Program Director for Bank Street's math leadership programs, and Steven Goss, Director of Online Learning at Bank Street, led the effort to pilot the College's initiative to take the program's student fieldwork and advisement entirely online. At AERA, Hummel and math faculty colleague Marvin Cohen will discuss issues surrounding an instructor's online presence and how to effectively assess engagement of students.
Chairing the Bank Street symposium at AERA will be faculty member Helen Freidus, who will discuss the benefits of online video sharing to facilitate peer-to-peer coaching for teachers.
"I am very excited about the work we're presenting at AERA because we've been able to develop a range of social constructivist practices online at Bank Street," says Freidus. "We've learned so much about ourselves, our students, and about each other, and it has also been helpful for us to reframe our own thinking while providing exciting and thought-provoking opportunities for our students."
Goss will join faculty member Barbara Dubitsky in presenting results of their collaboration in developing Math Place Online, which helps teachers and parents deepen their math knowledge using hands-on and developmental methods while connecting curriculum with the Common Core State Standards.
About Bank Street:
Since its founding in 1916, Bank Street College of Education has been an acclaimed educational institution and advocate for children and families. Bank Street is uniquely structured and internationally-recognized as a free-standing, private Graduate School of Education, an on-site independent School for Children, and a broad range of professional development and social programs. Its mission is to improve the education of children and their teachers by applying to the education process all available knowledge about learning and growth, and by connecting teaching and learning meaningfully to the outside world. For more information, visit http://www.bankstreet.edu.