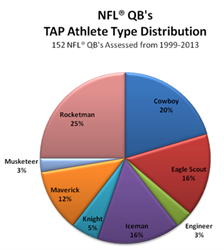 "The TAP Athlete Types are a 'game changer' for understanding what makes different athletes tick"
Chicago, IL (PRWEB) April 03, 2014
Twenty years of NFL Combine Data Reveals Eight Distinct Athlete Types: 25% of NFL® quarterbacks are Rocketmen
This year at the NFL® Combine the top four ranked quarterbacks Teddy Bridgewater, Blake Bortles, Johnny Manziel and Derek Carr filed into a small room to take the Troutwine Athletic Profile (TAP) to assess their mental make-up. This year the results include an important new insight: one of them is a Rocketman.
As he has for the last 20 years, Dr. Robert Troutwine proctors the assessment in person and provides the results to NFL® general managers and player personnel directors in the form of a personalized report on each college prospect. Nearly all athletes invited to the NFL® Combine since the 1990's including over 90% of players active in the NFL® have taken the TAP assessment. The TAP assessment measures an individual on 11 behavioral traits and three learning traits important for succeeding in athletics at the highest level.
This year, however, Dr. Troutwine has gone high-tech, bringing on partners and forming a new company, The Right Profile, focusing on people analytics and talent development systems in sports and other markets such as legal and corporate.
Dr. Troutwine and his co-founders recently conducted a deep statistical analysis of the database of nearly 20,000 elite & professional athletes that have taken the TAP assessment over the years. This analysis revealed eight distinct athlete types (more than personality), each with their own strengths, weaknesses, and particularly effective coaching techniques to help each type maximize their potential. A player's matched type is based upon his answers to the questions on the TAP assessment.
"The TAP Athlete Types are a 'game changer' for understanding what makes different athletes tick," said Dr. Robert Troutwine. "Now coaches and athletes have a common framework to better understand and interact with each other."
A review of the results found that 25% of NFL® quarterbacks were of the "Rocketman" type with characteristics such as 'cool under pressure' and 'will push hard to accomplish goals'. The four top-ranked quarterbacks reinforce the statistical analysis: one is a Rocketman. While individual TAP reports for NFL® prospects are private and only for NFL® personnel, descriptions of the Rocketman Athlete Type and the other seven athlete types can be found at taketheTAP.com.
For the first time, the general public can take the TAP assessment at taketheTAP.com, and anyone that completes the TAP assessment receives his or her TAP Athlete Type report free of charge.
The TAP Athlete Types are beneficial in a variety of ways:
•TAP Athlete Types provide a high level overview of an individual's mental make-up and behavior tendencies;
•They introduce a common framework for athletes, coaches and parents to better understand and interact with one another;

They provide a positive, self-identifying image for athletes; and
Most find it interesting and fun to learn their athlete type and share it with others.
The Right Profile (TRP) is the leader in people analytics and talent development systems integrating the latest technologies with predictive methodologies in behavioral science that transforms the way organizations select and develop talent. We harness people-centric science and predictive analytics to help organizations make smarter personnel decisions and then develop that talent to maximize their potential. TRP is active in multiple markets including professional sports, corporate, legal and military. TRP is headquartered in Chicago and has offices in Orlando and Kansas City, MO.
Media Contact:
The Right Profile
Mark Levin
Phone: (773) 977-8272
Email: levin(at)therightprofile(dot)com
Facebook: facebook.com/TheRightProfileLLC
http://www.therightprofile.com