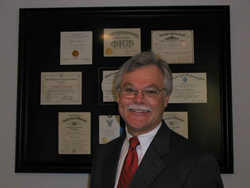 St. Louis, MO (PRWEB) April 08, 2014
Imaging is a crucial part of diagnosis and treatment planning for all types of dental procedures. Traditional x-ray imaging produces 2D film images of a patient's mouth and even exposes the patient to a small amount of radiation. However, the latest 3D imaging technology reduces exposure to radiation and develops clearer, computer-based images that simplify treatment planning and lead to better results from procedures.
To better serve the patients in his community with advanced treatment planning for excellent oral health, Dr. Thomas E. O'Connor has added one of the newest 3D imaging technologies on the market to his St. Louis dental office – the Carestream 9300 Cone Beam CT 3D imaging system. Dr. O'Connor explained, "Our new system allows me to find and respond to dental problems sooner. When developing treatment plans, I am now able to use less-invasive procedures, resulting in shorter appointments and less downtime for patients. The 3D imaging technology also enables me to better fit patients for dental implants and implant dentures and to perform cosmetic dentistry procedures with enhanced precision."
With digital imaging technology, patients no longer have to struggle with the conventions of older imaging techniques that require they wear a heavy mat over their bodies to protect from radiation exposure, and hold bite wings in their mouths while pictures are taken. Digital imaging techniques are quick, safe, and more comfortable for the patients. "If I can make our patients more comfortable and capture more detailed images for treatment planning, I know I'm creating an ideal environment for good oral health", Dr. O'Connor adds.
3D digital imaging with the Carestream 9300 is also environmentally friendly, as it negates the need to use paper products in order to produce the images required for developing a good oral health plan.
About Dr. Thomas E. O'Connor
Dr. Thomas E. O'Connor is a general and cosmetic dentist with more than 35 years of experience. He holds a Bachelor of Arts Degree in psychology and a Bachelor of Science Degree in chemistry from the University of Missouri. In 1979, he received his Doctor of Dental Medicine degree from Washington University School of Dental Medicine. For advanced training in cosmetic dentistry, Dr. O'Connor completed a fellowship in implant dentistry at the Misch Implant Institute. He has published a number of articles on subjects related to dental science, and is a member of a number of professional organizations, including the International Congress of Oral Implantology, the American Dental Association, the Missouri Dental Association and the Dental Organization for Oral Conscious Sedation.
Dr. Thomas E. O'Connor has served the needs of St. Louis patients since 1979. Under the supervision of Dr. O'Connor, the friendly team at his dental practice offers numerous general and cosmetic dentistry services, including dental implants, restorations, porcelain veneers, crowns, teeth whitening, tooth extractions, sedation dentistry and routine cleanings and exams.
For more information about the 3D imaging technology available from Dr. O'Connor's St. Louis dental office, visit the website at: http://www.smilesr4sharing.com