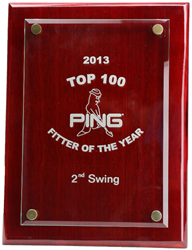 "Because of [2nd Swing], many golfers are enjoying the true benefits offered by custom-fit, custom-built PING clubs." -- John A. Solheim, PING Chairman and CEO
Minneapolis, MN (PRWEB) April 07, 2014
Golf club fitting pioneer and leader PING this month named 2nd Swing Golf, of Minneapolis, one of its Top-100 National Fitters of the Year for 2013.
"We are very honored to win this prestigious honor," said Simon Kallal, founder of 2nd Swing Golf, a recognized leader for its custom fitting process. "We strive to provide a (PGA) Tour-like custom fitting experience and are able to do accomplish that in large part with PING's latest advanced technology and software. "
"We all come together to really provide a wonderful customer experience," Kallal said.
The new nationwide award salutes those authorized PING Fitters who have demonstrated the highest commitment to custom fitting and its benefits to golfers of all abilities, according to PING.
"Your dedication to custom fitting distinguishes you from your competition and provides a valuable experience and service to your customers," said PING Chairman and CEO John A. Solheim of 2nd Swing Golf. "We are highly committed to maintaining our position as the unquestioned leader in custom-fitting."
"Because of you, many golfers are enjoying the true benefits offered by custom-fit, custom-built PING clubs," Solheim said.
This marks 2nd Swing Golf's third major fitting award from PING in the past five years. 2nd Swing is one of the nation's top used and new golf club sellers and specializes in personalized online fittings as well as comprehensive service at its retail stores in Minneapolis and Minnetonka, Minn.
The Top-100 National Fitters also is a first-time departure from PING's usual regional format, said
Pete Samuels, the company's Director of Marketing Communications. He said thousands of PING fitters across the United States were considered for the honor.
2nd Swing Golf already has garnered PING Regional Fitter of the Year in 2012 and 2009. Aside from 2nd Swing, only two other Minnesota companies made PING's Top 100 list for 2013.
PING's club fitting tools include Advanced Fitting System Interchangeable Fitting Cart, the iPING putter app, a new putter-fitting package and both nFlight and nFlight Mobile fitting software for its assistance centers. And 2nd Swing has all these tools available to its customers.
In the stores, when a golfer hits balls down a virtual driving range, 2nd Swing's certified fitters use PING's state-of-the-art nFlight software, along with four new nFlight bays, to observe and analyze each shot.
2nd Swing Golf is a Minneapolis-based retailer specializing in buying, selling, and trading golf equipment. With 21,369 new and used golf clubs available online, 2nd Swing is committed to maintaining the highest integrity, offering outstanding values and a fun, service-intensive customer experience.