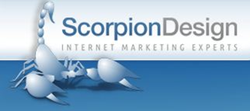 Valencia, CA (PRWEB) April 03, 2014
The results are in for the 2014 Internet Advertising Competition (IAC), and Scorpion Design, LLC will be taking home multiple awards in both the Best of Industry and Outstanding Website categories. The Santa Clarita-based Internet marketing company is excited to announce this achievement, which serves as an affirmation of the team's continued focus on client satisfaction and industry excellence.
These Scorpion Design websites won 2014 Best of Industry awards:

Best Legal Website: Meyer Wilson — meyerwilson.com
Best Medical Website: Hysterectomy.com — hysterectomy.com
Best Professional Services Website: Service Pros Plumbing — serviceprosplumbingaz.com
Best Construction Website: Stein Home Solutions — steinhomesolutions.com
Best Home Building Website: Stein Home Solutions — steinhomesolutions.com
The following websites received 2014 Outstanding Website awards:

Madera Hospital — maderahospital.org
Synergy Medical Center — wellnesscenternapa.com
Arnold & Itkin LLP Offshore Injury Website — offshoreinjuryfirm.com
"I'm really proud of the team," said Scorpion's VP of Web Development Christina Jobe. "The payoff for the entire delivery group's hard work and many, many long hours is always well worth it in the end. The team behind the scenes genuinely cares about the outcome of the product we put out and the impact it will have on our client's livelihoods. Our group comes in each day with one goal: to be the best. These awards are a testament to our team's passion, hard work, and genuine love for our clients."
The IAC is an annual event produced by the Web Marketing Association (WMA), which is designed to recognize excellence within the online marketing industry. The WMA was founded in 1997 in order to encourage high standards of professionalism within the field. Staff members are advertising, design, and public relations specialists who volunteer their time to the organization with the goal of inspiring excellence.
This was the same goal that prompted the initiation of the Internet Advertising Competition in 1999. The IAC gives marketing companies the opportunity to submit their work for recognition. Entries are judged on strict criteria that take into account multiple factors—including creativity, innovation, impact, design, and more.
The team of professionals at Scorpion Design is committed to working toward the goal of leading the industry in these areas, refusing to settle for less than excellence or to compromise the best interests of their clients in any way. Their outstanding success in the 2014 IAC serves both to affirm past efforts and to embolden the company in their pursuit of offering even higher quality products for their clients.
Scorpion Design, LLC is a web marketing and design company based in Santa Clarita, California. The company earned recognition for their early work focusing on the legal industry, but has since broadened their approach and now serves clients nationwide in a variety of industries. To learn more about Scorpion and their unique approach to marketing, call (886) 332-3203 or visit their website at http://www.scorpiondesign.com.