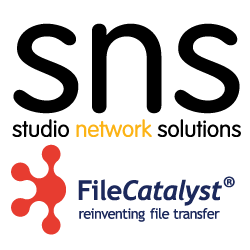 The secure, reliable, and accelerated file transfer capabilities of FileCatalyst combined with EVO's project, bin, media and cloud sharing capabilities deliver an ideal solution.
Ottawa, Canada (PRWEB) April 04, 2014
Unlimi-Tech Software, Inc., a pioneer in managed file transfers and the creator of FileCatalyst, the world's leading accelerated file transfer solution, is pleased to announce an integration partnership with Studio Network Solutions (SNS), a leading provider of shared storage solutions for video and audio workgroups.
SNS specializes in the development of shared storage hardware and software solutions for the media and entertainment industry. Since day one, they have applied unmatched ingenuity and experience to create outstanding products that exceed industry expectations while providing outstanding support to customers. Their customers range in size from individual freelance engineers to multinational media powerhouses, and their solutions are used to produce everything from Web Training Videos to multi-season Reality TV shows and major Hollywood films. SNS' products have been at the technical core of the music you listen to, the games you play, the shows you watch, and the movies you see. EVO is a complete, networked storage server solution for video/film/TV, graphics, VFX, animation, audio, and broadcast production environments.
As media files exponentially increase in size in the media and entertainment sphere, the delivery of these files between facilities is important. For users sending and receiving large format media files using methods such as email or FTP, transfers quickly become very slow or unreliable, especially over large geographical distances.
To speed the delivery of these files within its solutions, SNS has partnered with FileCatalyst to enable users to send digital content at accelerated data transfer rates. FileCatalyst's unique acceleration technology transforms transfers, reducing them from hours or days into minutes, regardless of size or format. By integrating specifically with the FileCatalyst Direct solution, EVO users can experience incredible speed gains, enabling transfer speeds of up to 138 times faster than FTP and other traditional file transfer methods.
"Using FileCatalyst with SNS EVO Shared Storage Server, further supports our initiative of global media production workflows," stated Ryan Stoutenborough, President, SNS. "The secure, reliable, and accelerated file transfer capabilities of FileCatalyst combined with EVO's project, bin, media and cloud sharing capabilities deliver an ideal solution for content producers looking to extend the production workgroup beyond the studio and into the field."
"Our partnership with SNS is a perfect match as we both address the fundamental problem that digital video requires bandwidth," said Alan Atkinson, Vice President of Business Development at Unlimi-Tech Software, Inc. "As the size of media files continue to grow, large digital assets often send data transfers to a screeching halt when using traditional methods of sending files. This is why accelerated file transfer is becoming more and more necessary in the media and entertainment industry."
About Unlimi-Tech Software, Inc.
Located in Ottawa, Canada, Unlimi-Tech Software is the creator of FileCatalyst, the world's leading accelerated file transfer solution. Founded in 2000, the company has more than one thousand customers in media & entertainment, energy & mining, gaming and printing, including many Fortune 500 companies as well as military and government organizations. FileCatalyst is a software platform designed to accelerate and manage file transfers securely and reliably. FileCatalyst is immune to the effects that latency and packet loss have on traditional file transfer methods like FTP, HTTP or CIFS. Global organizations use FileCatalyst to solve issues related to file transfer, including content distribution, file sharing and offsite backups. To learn more visit http://www.filecatalyst.com
About Studio Network Solutions (SNS)
SNS is a leading provider of shared storage hardware and software technology for Mac, Windows & Linux workgroups. SNS EVO combines high-performance with extensive connectivity in a single product including 8Gb/s Fibre and 10Gb/s Ethernet. SAN or NAS, or both at the same time, EVO is designed for online real-time use with leading applications including Final Cut Pro/FCP X, Adobe, Autodesk, Avid and ProTools. For over 15 years SNS has been advancing workflow efficiency for the media and entertainment, broadcast, post production, digital content creation, game development, and education and government marketplaces. For more information visit, [http://www.studionetworksolutions.com