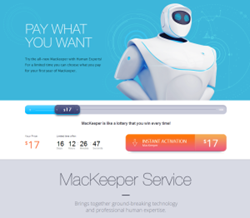 We hope that our users will enjoy the all new MacKeeper and Pay What You Want campaign is an extra layer of icing on the beautiful cake we made for them.
Cologne, Germany (PRWEB) April 08, 2014
To encourage consumers to give new MacKeeper 3.0 a try Kromtech Alliance Corp. launched a Pay What You Want campaign (http://www.mackeeper2015.com), where users can decide for themselves how much they are willing to pay for their first year license of MacKeeper.
"We believe that the campaign will have great appeal with Mac users, both novices and pros, since it puts no pressure on them, while offering them a unique opportunity to purchase one of the best Mac maintenance services available in the market today," says Alexander Kernishniuk, CEO, Kromtech Alliance. "If a person chooses to pay USD$1, it's completely up to them, - continues Kernishniuk. However, we do hope that customers will appreciate our product and will be willing to pay more."
Introduced at MacWorld 2014, MacKeeper 3.0 went beyond being simply a Mac utility application. It has developed into a comprehensive service that offers Mac lovers a unique way of taking care of their Macs. Not only does it look after every aspect of Mac maintenance, be it cleaning, security, personal and business data control or Mac optimization, but it adds a human touch to customer experience with the product.
MacKeeper's "human assistance" functionality connects users to their personal Apple-certified experts and Geeks-on-demand who can find and fix a variety of performance errors and answer any Mac-related questions. Users no longer need to worry about what to do to get the most out of their Mac machines, as MacKeeper and its experts do all the work for them.
"When Kromtech Alliance took over the MacKeeper brand and development in 2013 we made a promise to our customers to take the product to the next level. MacKeeper 3.0 is our response to customers' feedback. It combines all the best functionality from 16 important Mac utility tools in a single user-friendly product. We do hope that our users will enjoy the all new MacKeeper and Pay What You Want campaign is an extra layer of icing on the beautiful cake we made for them," concludes Kernishniuk.
Pay What you Want campaign for MacKeeper 3.0 runs until 20 April 2014. To purchase through Pay What You Want campaign go to http://www.mackeeper2015.com.
About MacKeeper
MacKeeper is a top rated Mac cleaning, security and optimization software service that brings together ground-breaking technology and professional human expertise.
About Kromtech Alliance Corp
Kromtech Alliance Corp is a global IT investment and development firm that creates software applications for customers all over the world. The company's product portfolio includes:
-data cleaning tools;
-security applications;
-optimization software solutions.
In 2013 the company purchased PCKeeper and MacKeeper, both products are now available world-wide. Kromtech Alliance's own Memory Keeper Mac app holds high user ratings on iTunes.