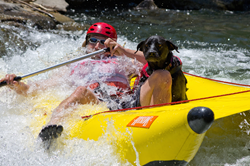 There's something for everyone, ranging from the weekend warrior and hard-core athlete to couples and families looking for a relaxing, yet action-filled getaway.
Gunnison-Crested Butte, Colorado (PRWEB) April 04, 2014
The Gunnison-Crested Butte Valley knows how celebrate summer and fall fun with an amazing array of one-of-a-kind festivals that reflect the lifestyle, natural beauty and Western friendliness of the Colorado Rocky Mountains. There's something for everyone, ranging from the weekend warrior and hard-core athlete to couples and families looking for a relaxing, yet action-filled getaway.
Gunnison Growler & Townie Takeover Weekend, Gunnison, May 24 – 25
The official kickoff of the summer season is Gunnison Growler & Townie Takeover Weekend, featuring two days of biking events to celebrate Memorial Day weekend. The Half-Growler and Full-Growler mountain bike races on May 24 and 25 start downtown before heading out to Hartman Rocks Recreation Area. A Townie Takeover Ride on Sunday is a mellower option for all ages on cruiser bikes. Gunnison's IOOF Park and the adjoining street will be filled with food vendors, live music and a beer garden for athletes and the public to enjoy on Saturday and Sunday. For information, go to http://www.gunnisontrails.com (Growler races) and http://www.gunnisonmentors.com (Townie Takeover Tour).
12th Annual Gunnison River Festival, Gunnison, June 19 - 22
Gunnison River Festival offers a unique blend of hardcore and lighthearted recreation. The event kicks off on June 19 at I Bar Ranch with a concert by Bonnie & The Clydes, food and fund-raising for Gunnison Whitewater Park improvements. Ranger-led Morrow Point boat tours through Black Canyon of the Gunnison are available June 19 and June 20 along with a fish fry at the Gunnison Whitewater Park on June 20. The park promises to be filled with people, pets and action on Saturday with a canine big air contest, competitive down river raft race, community float, kayak competition, inflatable rodeo, kids' zone and more starting at 9 a.m. On Sunday, an open water swim takes place in Blue Mesa Reservoir and teams of two can compete on the Gunnison River for a cash purse and bragging rights in the Gene Taylor's Bridge to Bridge Fly Fishing Tournament. For registration and a schedule, visit http://www.gunnisonriverfestival.com or call (303) 913-0486.
34th Annual Crested Butte Bike Week, Mt. Crested Butte & Crested Butte, June 26 – 29
Crested Butte and Mt. Crested Butte are the proud hosts of the world's oldest mountain bike festival, which now also includes options for those who enjoy cruiser bikes and bikes without chains. The Chainless World Championships down Kebler Pass and into downtown on June 27 is always a thrilling scene for riders and spectators, followed by the Fat Tire 40 mountain bike race on June 28. If a one-speed cruiser is more your style, join in the fun and fund-raising for Adaptive Sports Center's annual Bridges of the Butte townie tour on June 28 – 29, also the dates for the Central States Cup downhill and cross country bike races. KEEN Rippin Chix camps for women are scheduled for June 26 and 27, and guided mountain bike rides and free shuttles to premiere trails also are highlights. For information about Crested Butte Bike Week, call (800) 814-8893 or visit http://www.cbbikeweek.com.
18th Annual Crested Butte Music Festival, Gunnison Valley, June 29 – Aug. 10
The 2014 festival will showcase outstanding performers from all over the world and internationally acclaimed performers such as Boston Brass, American String Quartet, pianist Alexander Schimpf, and opera star Barry Banks. Celebrating its 18th year, CBMF also has bluegrass, opera and gypsy jazz mini-festivals that are part of the larger event. The operas "Rigoletto" and "Suor Angelica," a free family concert series, home soirée concerts and much more are on this dynamic event's six-week schedule, including this year's unusual instrument—the bayan—played by Alexander Hrustevich. For more information and tickets, call (970) 349-0619 or visit http://www.crestedbuttemusicfestival.org.
114th Annual Cattlemen's Days, Gunnison, July 5 - 13
People who love the authenticity of the West should plan on attending the 114th annual Cattlemen's Days at Fred R. Field Western Heritage Center and various venues around Gunnison. The event features a county fair, parade, concerts, dancing, a horse show, cowboy poetry, horse races, cowboy church and of course rodeo events sanctioned by the Professional Rodeo Cowboys Association. Family-friendly activities are spread throughout the nine days of Cattlemen's Days festivities, including rodeos scheduled for the evenings of July 10 – 12 and a Tough Enough to Wear Pink Concert and Auction on July 8. For more information, call the Gunnison Country Chamber of Commerce at (800) 814-8893 and visit http://www.cattlemensdays.com for a complete schedule.
27th Annual Crested Butte Wildflower Festival, Crested Butte, July 7 - 13
The historic mountain town of Crested Butte, which was designated the "Wildflower Capital of Colorado" by the state legislature in 1990, hosts this colorful festival during the peak of wildflower season. More than 200 individual events such as photography and art classes, 4 X 4 tours, hikes and flower identification walks, garden tours, cooking seminars and more focus on the magnificent sight of miles and miles of wildflower fields abloom in the area. For more information, call (970) 349-2571 or visit http://www.crestedbuttewildflowerfestival.com.
Crested Butte Wine & Food Festival, Crested Butte, July 10 – 13
Crested Butte Wine & Food Festival returns this summer better than ever with several wine seminars, a Celebrity Chef Tour dinner at Uley's Cabin, a winemaker dinner and dessert extravaganza at private residences, wine hike and gourmet picnic lunch, and an outdoor grand tasting. From "Man Enough to Drink Pink" to "Thin-Skinned Red Wines," there are topics to please any palate during six wine seminars and a mixology session held on Thursday, Friday and Saturday. On Sunday, the "Bursting with Bubbles Champagne Brunch" at West End Public House spotlights champagnes from around the world. Tickets and additional information is available at http://www.crestedbuttewine.com or by calling (970) 349-7487.
42nd Annual Crested Butte Arts Festival, Crested Butte, August 1 – 3
Crested Butte Arts Festival is one of the biggest weekends of the summer, drawing world-class artists from all 50 states and several international exhibitors. Open-air booths line the five-block center of Crested Butte's National Historic District, featuring 175 of the nation's finest visual artists along with live music and entertainment, an art auction, chef and artist demonstrations, children's activities, and a beer and wine pavilion. The festival kicks off on Friday evening from 5 p.m. until dusk and continues on Friday and Saturday from 10 a.m. – 5 p.m. Call (970) 349-1184 or visit http://www.crestedbutteartsfestival.com.
Car, Carving & Art Weekend, Gunnison, Aug. 15 – 17
This dynamic weekend for all ages includes the 27th annual Gunnison Car Show, High Octane Arts & Crafts Festival, and Carvin' Up Colorado. Most of the activities take place in the neighboring Jorgensen and Legion Parks, except a '50s-style cruise-in and free dance on Main Street on Friday evening and a breakfast cruise to Crested Butte on Sunday morning. On Saturday, admire all the chrome during the open car show and browse the creations of 60 artisans from around the region at the High Octane Arts & Crafts Festival. Throughout the weekend, wood carvers from around the country will transform tree stumps into works of art that will be on permanent display in Legion Park and other community sites. For information, call (303) 913-0486 (carving) and (800) 814-8893 (arts/crafts) and visit http://www.gunnisoncarclub.com.
Mt. Crested Butte Chili & Beer Festival, Mt. Crested Butte, September 6
Get into the spirit of autumn with the annual Mt. Crested Butte Chili & Beer Festival held on Sept. 6 at the base of Crested Butte Mountain Resort ski area. Heat up by sampling great chili prepared by area cook-off contestants, cool off with beers poured by more than 25 microbreweries and savor live music all afternoon. Tickets are $25 for early-bird purchases and $30 at the door. Doors open at 11:30 a.m., beer starts being poured at noon and goes until 4 p.m. For more information, contact the Crested Butte-Mt. Crested Butte Chamber of Commerce at (800) 814-8893 and visit http://www.cbbeerfest.com.
Crested Butte Film Festival, Crested Butte, September 25 – 28
Taking place annually the last weekend in September, the Crested Butte Film Festival presents more than 90 films during the peak of the fall foliage season. Expect beauty inside and out with four days of the best of international cinema, coupled with filmmaker talks, visiting actors, parties and easy transport on foot and bike between three downtown venues. Films to be screened include narratives, documentaries, outdoor adventure and short films, plus a free children's program. Several ticketing options make it easy and affordable to enjoy all four days, and passes are on sale now at http://www.cbfilmfest.org. Individual tickets will be sold at the door. A complete schedule of events and list of films will be available online Sept. 1. For additional details, call (303) 204-9080.
Vacation Packages & Visitor Information
To save on flights, hotel rooms, vacation packages, car rentals and more, call the Gunnison-Crested Butte Tourism Association reservation hotline at (888) 559-0841 or go to http://book.GunnisonCrestedButte.com. For destination information, call (800) 814-8893, visit http://www.GunnisonCrestedButte.com and follow GCBTA event promotions on Facebook at http://www.facebook.com/gcbta.