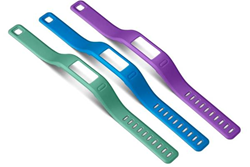 Bozeman, MT (PRWEB) April 05, 2014
Vivofit uses an LCD display, like most watches, so it performs much better in bright sunlight than LED readouts according to the activity tracker testers at the Heart Rate Watch Company.
"LED lights work fine for indoor workouts and in dark rooms for spinning classes the bands like the Polar Loop with heart rate work awesome but the Garmin is easier to read for outdoor use," says Rusty Squire, President of the Heart Rate Watch Company. He adds, "Garmin Vivofit also requires no re-charging for up to a year which is also quite convenient."
Heart Rate Is Best In Activity Trackers
"Heart rate is key for activity tracker bands because the bands only count movement and you receive little credit when your wrist is stationary, like when you are cycling," says Squire. He adds, "This is why the Polar Loop and Garmin Vivofit are the only two activity trackers we carry for now."
Activity Accountability
"Every hour, if you have been inactive, the Garmin Vivofit reminds you to get up and move about, which is great for folks with desk jobs because it holds you accountable to not sitting still," says Squire. He adds, "The Vivofit even adjusts your daily activity goals for you as your activity level improves, so it challenges you."
Features
"Garmin Viviofit delivers time, so you can use it just like a wrist watch substitute," says Squire. He adds, "Vivofit also tracks your steps, distance, sleep quality, heart rate and offers you goals adjusted based upon your activity level."
Change Your Band Color
"With Vivofit you can buy up to three additional bands in different colors to match your style," says Squire. He adds, "Garmin Vivofit spare bands can be changed in seconds and three additional bands only cost $24."
Call The Experts
"If you have questions regarding which activity tracker might be best for you then simply call us at 866-586-7129," says Squire. He adds, "We think you'll appreciate talking to people that actually use and test the products they sell."