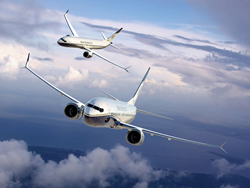 Avjet's long standing relationship with Boeing has helped fuel our company's international growth over the past decade and we are especially proud to be Boeing's launch customer for the BBJ MAX
Burbank, CA (PRWEB) April 04, 2014
Boeing Business Jets today announced the first sale of its forthcoming BBJ MAX 8 executive airliner. Avjet Corporation based in Burbank California exclusively negotiated on behalf of its purchaser—a current BBJ operator— to be the launch customer for Boeing's BBJ MAX 8. The Boeing Business Jet line of aircraft are the world's most desirable private business jets and sit atop the general aviation pyramid. The BBJ MAX line of aircraft consists of the BBJ MAX 8 and BBJ MAX 9, both based on the upcoming 737 MAX commercial airliners due in service by 2017. Both of the commercial variants are significantly upgraded and redesigned aircraft based on the current in service 737-800 and 737-900.
Steve Taylor, President of BBJ Aircraft Division, based in Seattle noted, "The current BBJ line is the class leader in our aircraft segment but our VIP customer base are always demanding new improvements in comfort, speed and extended range. The BBJ MAX extends our lead in this segment and ensures our customers getting the best of both worlds." The BBJ line of aircraft already enjoy significant range advantages over competing products from Airbus (ACJ318/319) and Embrear's product line (Lineage 1000). The current in service BBJ already enjoys another important advantage such as a 6,500-foot cabin altitude."
Avjet Corporation based in Burbank California operates a BBJ as one of the world's only Part 135 operated Boeing aircraft able to provide client's global charter. In addition Avjet Corporation is heavily involved in Boeing interior completions management —with 3 currently in completion centers —as well as BBJ aircraft sales and acquisitions—having sold more BBJ's over the past six years than any other aviation firm. "Avjet's long standing relationship with Boeing has helped fuel our company's international growth over the past decade and we are especially proud to be Boeing's launch customer for the BBJ MAX" notes Avjet Chairman and CEO, Marc Foulkrod.
The forthcoming BBJ MAX 8 will have an increased range of just over 6300 nautical miles. The new CFM Leap engines provide a 14-percent reduction in fuel use over the BBJ's current CFM56-7 turbines according to Boeing. Over 150 BBJ aircraft consisting of BBJ, BBJ2 and BBJ3's are currently in service throughout the world.