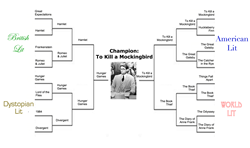 Mountain View, CA (PRWEB) April 07, 2014
After four intense rounds and thousands of votes, Shmoop is proud to announce their 2014 Literary March Madness winner. With 55% of the vote, To Kill a Mockingbird has risen above its page-turning competitors to become the ultimate champion.
A CUTTHROAT COMPETITION
Shmoop's Literary March Madness began with sixteen competitors divided into four genres: British Literature, Dystopian Literature, American Literature, and World Literature. Over 14,000 votes were cast to determine the favorite book.
In the final round, To Kill a Mockingbird went toe-to-toe with experienced competitor The Hunger Games. While the popular dystopian novel has topped Shmoop's most-visited page list for three years running, Harper E. Lee's classic pulled ahead at the last moment and defeated Suzanne Collins's YA favorite. What did Katniss Everdeen, the protagonist of The Hunger Games, have to say about coping with her loss? "Peeta says it will be okay," Everdeen shared. "We still have each other. And the book."
A CHAMPION CROWNED
To Kill a Mockingbird was published in 1960. Loosely inspired by author Harper E. Lee's childhood growing up in the American South, the book tells the tale of young Scout Finch as she observes the deep-seated racism of her hometown and learns how to stand up for what—and who—she believes in. Shmoop's Literary March Madness trophy isn't the first major award for Mockingbird. In 1961, the novel won the Pulitzer Prize for Fiction.
About Shmoop
Shmoop is a digital curriculum and test prep company that makes fun, rigorous learning and teaching materials. Shmoop content is written by master teachers and Ph.D. students from Stanford, Harvard, UC Berkeley, and other top universities. Shmoop Learning Guides, Test Prep, and Teacher's Editions balance a teen-friendly, approachable style with academically rigorous materials to help teachers help students understand how subjects relate to their daily lives. Shmoop sees over 8 million unique visitors a month on its site, and offers more than 7,000 titles across the Web, iPhone, Android devices, iPad, Kindle, Nook, and Sony Reader. The company has been honored twice by the Webby Awards, named "Best in Tech" twice by Scholastic Administrator, and awarded with two Annual Education Software Review Awards (EDDIES). Launched in 2008, Shmoop is headquartered in a labradoodle-patrolled office in Mountain View, California.
*SAT and AP are registered trademarks of the College Board, which was not involved in the production of and does not endorse this product.
*ACT is a federally registered trademark of ACT, Inc. Shmoop University is not affiliated with or endorsed by ACT, Inc.