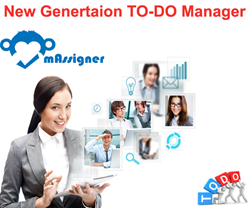 First of its kind solution for To Do list management
Delhi,India (PRWEB) April 10, 2014
Time management techniques are always helpful to manage work in an efficient and effective way; this is the key to a successful and stress free life. Evolution of technology is helping us to improve time management techniques by using smarter productivity tools, and the creators of mAssinger have taken this a step further.
The mAssigner application is the latest invention for improving time management and effectively managing the all-important To-do list; mAssigner has been conceived by professionals who have more than 20 years of management experience and are also experts in the mobile apps area.
It has been designed with the simple logic that most professionals do not work in isolation. However, almost all the to-do management tools are designed to work on their own; so there has long been a need for a tool that will help people to work in a collaborative way.
In an office environment, professionals often end up assigning tasks on numerous occasions (formal/informal meetings, project need, mail triggered by someone, etc.) and via various channels (phone, email, chat, verbal) but they do not have a comprehensive way to manage all those individual tasks. This results in many of the tasks missing their deadlines and endless chaos when it comes to the task completion; this all impacts the productivity and outcome of the team. To resolve these problems, and also to plug the gaps in the currently available solutions, this productivity improvement mobile app, mAssigner, has been conceptualized and is being launched for Android and iOS smartphones.
The patent-pending new app works in a unique but simple way, tapping the power of mobile. It assists task management and assignment of tasks by selecting contacts from the phone book. So similar to whatsapp, it is centred on a mobile number and does not require any registration process except for your mobile number verification.
The assignee will receive the task through the application if they have mAssigner enabled on their device. Otherwise, the task will be transmitted from the phone through an SMS. This way, one can monitor all self-assigned tasks, received tasks and the assigned tasks. Thus one can have a tab on all the tasks which one needs to manage.
The applications has been launched with advanced features, such as two way communication between the assigner and assignee; getting notified about the progress and completion of tasks; the built-in messaging feature; Cloud synch capability; feature to manage urgency & priority; manage deadlines and tracking the tasks till closure. For more information, about mAssigner, visit http://www.massigner.com/.
To find out more about the new, free app, or to download it, visit:
For android : https://play.google.com/store/apps/details?id=com.taskmanager.app
For iPhone : https://itunes.apple.com/in/app/massigner/id796898699?mt=8