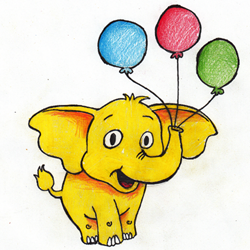 Buu Vinh, of Research and Development at BMC, said "It was an incredible experience. Everyone was highly motivated, hard working and helpful to each other in a 3-day super charged weekend. Mark Kerzner and Manish Mehndiratta were knowledgeable and willing
Houston (PRWEB) April 08, 2014
Elephant Scale CEO Mark Kerzner said, "I am pleased we did it. Houston's Big Data is only nascent: companies don't do it, and developers have not heard about it. To my knowledge, we are the first to succeed with such training in Houston, where many others have tried and failed. This attests to our strong roots, persistence, and training quality. Just look at the excited reactions of the students, and you will feel the energy."
Mark also said, "We may be a catalyst. We are clients of Houston Technology Center, and we run Houston Hadoop Meetup. Once we bring Hadoop bootcamps to Houston, developers will go back to their managers and suggest Big Data projects. In their turn, manager will send other developers to the bootcamp, and the upward spiral will continue."
Sujee Maniyam, Elephant Scale COO, said, "This event made me a believer. Now I am certain that we will continue with bootcamps, and moreover, we will do them in Chicago, Washington, and across the US. When we teach Hadoop at Big Data conferences, our audience is between fifty to a hundred people. To manage our own bootcamp of over twenty students in Houston means that in other places we will be even more successful."
Elephant Scale is a partner with both Cloudera and HortonWorks – two companies which recently made the news because of the large funding they have received: HortonWorks in the amount of 100 M, and Cloudera – a staggering 900 M. According to Matt Asay, these investments are "a sign of war on incumbent infrastructure providers and on increasingly outdated way of thinking about Big Data." The intent of Elephant Scale in this is to provided training and implementations based on both platforms, in vendor-neutral manner, as well as using straight Apache Hadoop.
The bootcamp received enthusiastic response from the students. Guadalupe Hernandez, a web developer, had this to say, "The bootcamp delivered on all promises and more. The experience was challenging and invigorating!"
Lila Ghemri, professor of Computer Science at TSU, commented: "This was a great experience and great people to learn from and work with. Thanks to all."
Buu Vinh, of Research and Development at BMC, said "It was an incredible experience. Everyone was highly motivated, hard working and helpful to each other in a 3-day super charged weekend. Mark Kerzner and Manish Mehndiratta were knowledgeable and willing to deep dive into questions, or lab work and still were able to complete the entire agenda for the bootcamp. AWESOME!"
About Elephant Scale
Started a year ago by two well-known Hadoop architects who have books, articles, and patents to the name, Elephant Scale distinguishes itself by the deep learning it brings to the students. Its bootcamps and corporate training bring the depths of real knowledge, based on experience gained in multiple Big Data projects. In addition, Elephant Scale provides Big Data implementation services for small and medium size projects, and offers support for FreeEed, a vertical Hadoop application for eDiscovery. This technology is extended to HR, Finance, and energy applications – and any place where text analytics needs to be applied on a big scale.
For more information please contact info(at)elephantscale(dot)com, 713-568-9753.