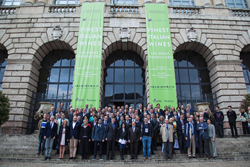 OperaWine is a great opportunity to gather together the best of Italian wine in one event. In these three years, we've succeeded in involving a lot of international press, allowing for high-quality promotion as well.
Verona, Italy (PRWEB) April 07, 2014
As the curtains closed on the third edition of La Grande Bellezza of OperaWine, applause for the event – the premier showcase of Vinitaly, the world's largest wine exhibition - came from both Italian producers and international press. In one grand tasting, held from 4pm to 6:30pm in the Palazzo Gran Guardia in the heart of Verona, members of the trade and press met the Top 100 Italian wines - as selected by Wine Spectator Magazine – while producers proudly presented the fruits of their efforts, many especially eager to spotlight the land and the grapes that yielded these great wines.
As Luigi Biemmi, enologist for Cesari Gerardo explains, "Opera wine is an incredibly important calling card for producers, giving visibility to the characteristics of our wine, and our territory – most of all for native grapes."
"For a small winery, that works mostly with native grapes, this is an extraordinary recognition," agrees Marco Caprai, of Arnaldo Caprai. "This year there are even more trade and press professionals, which is fundamental."
The ability to make new contacts with high-profile international journalists and wine business leaders was widely noted as one of the event's main assets, as Enrico Drei Donà of Cantina Drei Donà explains: "OperaWine is a great opportunity to gather together the best of Italian wine in one event. In these three years, we've succeeded in involving a lot of international press, allowing for high-quality promotion as well."
"For us, OperaWine means a great window on the world of wine, many new contacts, and opening up lots of new potential," agrees Maria Cristina Geminiani, proprietor of Fattoria Zerbina.
"OperaWine means being part of an entity that represents the best of Italian quality and regional variety – it's also a window, before Vinitaly, to preview the new products of these wineries," says Massimo Tonini, export director for Santa Margherita.
"Even the name OperaWine is an excellent way to represent us on the international market," agrees Daniela Mastroberardino of Terradora. "It's the perfect synthesis of music and wine, two of the best elements of the Made in Italy brand."
"For us, OperaWine is important because it's a selection of the best Italian wineries, and this brings us a level of international recognition for which we are very grateful. We have to thank Wine Spectator as well, because among the 5000 wine producers in Italy, to be in the top 100 is truly an honor, and encourages us to work with even more passion," says Emilia Nardi, president of tenute Silvio Nardi. "This year is the best yet; each year there are new fresh, innovative ideas – like the crowing of Mr. and Miss Vinitaly International – that make the event even more interesting."
Praise came also from the many international guests present. A special delegation of Chinese and Hong Kong journalists seized the opportunity to expand their knowledge of fine Italian wines. "OperaWine has far exceeded my expectations," says Jordan Choy, executive editor of Wine-Luxe, a trade magazine with distribution in both Hong Kong and China. "It is a great idea to concentrate the best wineries of Italy in one place, so it's easier to discover many new wineries in one day."
"Italian wine is still quite mysterious to Hong Kongers," agrees Tama Chan, a reporter for Apple Daily, the most widely-read newspaper in Hong Kong. "So for us OperaWine is a great opportunity to have 100 of the best Italian wines in one place, so we can discover more."
"This has been a great opportunity for us to get to know more about Vinitaly International's activities, including the Vinitaly International Academy educational initiative," says Vivian Tian, wine expert and VP of business development for Chinese e-commerce platform Vinehoo.com. "We have many Italian wine fairs in China, but I have to say that OperaWine is truly exceptional – the opportunity to taste so many great wines and speak with so many winery owners; I'm really learning a lot."
"OperaWine is such an exciting event, that I would come all the way from Hong Kong to Verona just to attend it," says Hong Kong wine educator JC Viens. "Even if Vinitaly were a week later or a month later, I would make a special trip just for OperaWine. What I like this year, as the editors of Wine Spectator explained, is that they shifted their focus slightly to reduce the number of producers from Piedmont and Tuscany, to allow us to discuss new up-and-coming wine regions."
The quality and international focus of the event were among the factors that encouraged clothing designer Cruciani to sponsor the event. As founder and CEO Luca Caprai explains: "Cruciani was proud to sponsor this year's OperaWine, and lend our support to Vinitaly International, an organization that shares the values intrinsic to Cruciani's mission: commitment to the highest level of quality, respect for tradition and the territory that sustains us, and the passion for representing the best of Italian craftsmanship in markets around the world. We are pleased to position the Cruciani brand alongside the best of the world of Italian wine, and be part of an event that showcases our shared values for an international audience."
The organizers of OperaWine would also like to thank sponsors Acqua Surgiva, Air Dolomiti, Asiago, Electrolux, Fondazione Arena, Ponente, and Riedel for their efforts and resources offered to present the third edition of OperaWine.
About:
Wine Spectator is the world's leading authority on wine that reaches more than 3 million readers worldwide, exploring wine's role in contemporary culture and delivering expert reviews of more than 15,000 wines each year. Wine Spectator is solely responsible for the choice of producers at the event.
Veronafiere is the leading organizer of trade shows in Italy including Vinitaly (http://www.vinitaly.com), the largest wine event in the world. The 47th edition of Vinitaly counted some 148,000 visitors (+6%), of which 53.000 were international attendees (+10%) visiting from 120 countries. On 95.000 square meters, 4.200 exhibitors welcomed trade professionals, media and producers alike. The next installment of the fair will take place on 6th- 9th April 2014. The premier event to Vinitaly, OperaWine (http://www.vinitalyinternational.com) "Finest Italian Wines: 100 Great Producers", will unite international wine professionals on April 5th 2014 in the heart of Verona. Veronafiere also created Vinitaly International in 1998 to develop a global platform for the promotion of companies in the Italian wine and food sectors.
# # #