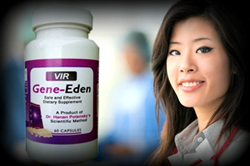 We believe that circumcised men and non-circumcised men, vaccinated men and non-vaccinated men, should talk to their doctor about Gene-Eden-VIR. - Mike Evans, polyDNA
Rochester, NY (PRWEB) April 09, 2014
Male circumcision only helps reduce infections with certain types of HPV. A recent study of 4,033 individuals showed that the HPV types covered by the HPV vaccine are not affected by circumcision. "Incidence of HPV 16, oncogenic HPV (cancer causing), and non-oncogenic HPV (non-cancer causing) did not differ by circumcision status (1)." However, the vaccine only covers a few strains. There are many more HPV types not covered by the vaccine. The study showed that these types were affected by circumcision (1). Specifically, the study found that circumcised men had lower rates of HPV 58, 68, 42, 61, 71, 81, and IS39 (1). In addition, another study found that "Wives and girlfriends of circumcised men had a 28 percent lower rate of infection over two years with the human papilloma virus or HPV." (See Reuters, from January 6, 2011) (2). The report did not specify which types of HPV were tested. polyDNA recommends that all men with an HPV infection ask their doctors about Gene-Eden-VIR. This natural antiviral was shown to reduce both high and low risk HPV symptoms in a post-marketing clinical study that followed FDA guidelines.
Dr. Maria Wawer said that, "Our findings indicate that male circumcision should now be accepted as an efficacious intervention for reducing the prevalence and incidence of HPV infections in female partners. However, protection is only partial; the promotion of safe sex practices is also important (2)." Research shows that circumcision does not protect against even the strains of HPV covered by the HPV vaccine. Therefore, most healthcare professionals recommend that circumcised men get vaccinated with Gardasil.
"Gardasil is a vaccine, licensed for use in June 2006, by the FDA. It targets four strains of human papillomavirus (HPV) -- HPV-6, 11, 16, and 18… HPV-6 and -11 cause about 90% of genital warts. HPV is also linked to anal cancer." (See WebMD, WebMD, from 2006) (3). However, Gardasil has been shown to work only "in those not already exposed to those strains (3)." Moreover, Gardasil's own website notes that "Gardasil may not fully protect everyone, nor will it protect against diseases caused by other HPV types." (See Gardasil.com) (4).
"We believe that circumcised men and non-circumcised men, vaccinated men and non-vaccinated men, should talk to their doctor about Gene-Eden-VIR. This natural antiviral was designed to help the immune system target the latent HPV virus." - Mike Evans, polyDNA
Gene-Eden-VIR is a safe, natural product that was proven to reduce HPV symptoms in a clinical study published in the peer reviewed, medical journal Pharmacology & Pharmacy in a special edition on Advances in Antiviral Drugs on August 12, 2013.
The study showed that Gene-Eden-VIR reduced HPV symptoms and was safe and effective (5). "Up to 70% of those studied reported a decrease in HPV symptoms (5)."
Each ingredient of Gene-Eden-VIR was chosen through a scientific approach. Scientists scanned thousands of scientific and medical papers published in various medical and scientific journals around the world to identify the safest, most effective natural ingredients that target the latent form of HPV (5).
Additionally, an HPV infection can cause individuals to feel fatigued. A second clinical study showed that Gene-Eden-VIR decreased physical and mental fatigue. (See Pharmacology & Pharmacy, from March, 2014) (6).
Doctors can view the paper on Gene-Eden-VIR, here: http://www.scirp.org/journal/PaperInformation.aspx?PaperID=36101#.UzKpZKiSz90
To learn more about Gene-Eden-VIR and HPV, visit http://gene-eden-kill-virus.com/HPV-Remedy.php. All orders of Gene-Eden-VIR are completely confidential, and no information is shared or sold to any third party. Privacy is assured.
Reference:
(1) Male circumcision and the incidence and clearance of genital human papillomavirus (HPV) infection in men: the HPV Infection in men (HIM) cohort study. Published in February 2014.
http://www.ncbi.nlm.nih.gov/pubmed/24517172
(2) Circumcision helps stop wart virus, study finds. Published on January 6, 2011.
http://www.reuters.com/article/2011/01/06/us-circumcision-virus-idUSTRE7056HB20110106
(3) WebMD - Vaccines Health Center - HPV, Cervical Cancer Vaccine: 15 Facts. Last reviewed in 2006.
http://www.webmd.com/vaccines/features/hpv-cervical-cancer-vaccine-15-facts?page=2
(4) Gardasil.com - About Gardasil.
http://www.gardasil.com/about-gardasil/about-gardasil/
(5) Gene-Eden-VIR Is Antiviral: Results of a Post Marketing Clinical Study. Published in September 2013.
http://www.scirp.org/journal/PaperInformation.aspx?PaperID=36101#.U0JzkaiSz91
(6) Gene-Eden-VIR Decreased Physical and Mental Fatigue in a Post Marketing Clinical Study That Followed FDA Guidelines; Results Support Microcompetition Theory. Published in March 2014.
http://www.scirp.org/journal/PaperInformation.aspx?PaperID=44234#.U0KsfqiSz90
polyDNA is a biotechnology company that develops dietary supplements using the unique scientific method developed by Dr. Hanan Polansky, which is based on Computer Intuition.
In addition to his unique scientific method, Dr. Polansky published the highly acclaimed scientific discovery, called Microcompetition with Foreign DNA. The discovery explains how foreign DNA fragments, and specifically, DNA of latent viruses, cause most major diseases.
polyDNA developed Gene-Eden-VIR , an antiviral natural remedy that helps the immune system kill latent viruses.