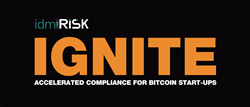 "We've seen that it's very difficult for many Bitcoin startups to assess when they're going to launch- because much of their commercial viability depends on the necessary banking relationships- and what their volume will be in the first 6 months."
Palo Alto, CA (PRWEB) April 07, 2014
IdentityMind Global, provider of an on-demand anti-fraud and risk management platform has announced today, IGNITE, a specialized program to provide Bitcoin Startup companies with KYC and Transaction Monitoring technology for Anti-Money Laundering compliance. IGNITE provides the protection, processes, visibility, and reporting required to build relationships with traditional banks and financial institutions, simplifying the regulatory process and accelerating entry to market for digital currency startups.
IGNITE includes:

Simple onboarding process allowing companies to quickly begin processing transactions.
Low, flat rate fee for the first 6 months.
Single integration point to access more than 15 third-party providers of data and technology.
Full transaction monitoring & KYC compliance program offering.
Ability to pay directly with Bitcoin, Credit Card or PayPal through a new full-service webstore.
Ability to leverage knowledge from IdentityMind Global's network of Bitcoin companies.
"We've seen that it's very difficult for many Bitcoin startups to assess when they're going to launch- because much of their commercial viability depends on the necessary banking relationships- and what their volume will be in the first 6 months," said Garrett Gafke, Identitymind Global's CEO & President. "That's why we're adding a low cost 6-month flat rate fee. The idea is that with our IGNITE program, companies can launch, and start processing transactions, while having the tools to meet FinCEN regulations and establish the banking relationships they need to grow."
IdentityMind Global's flagship Platform offers KYC services with worldwide coverage. This includes patent-pending proprietary technology and an ecosystem of more than 15 data and technology partners seamlessly integrated into one platform. In addition to KYC and Transaction Monitoring, the Platform also offers Anti-Fraud, providing the ONLY correlated solution for risk management specifically tailored to Bitcoin and digital currencies.
Availability
The IGNITE Program is immediately available. Please direct to http://www.landing.identitymind.com/ignite, or contact sales at sales (at) identitymind (dot) com
About IdentityMind Global
IdentityMind Global™ is an e-commerce company offering an on-demand platform servicing payments, risk management, anti-fraud and anti-money laundering services for Acquiring Banks, Payment Processors and Gateways, Payment Service Providers (PSP/ISO/MSP,IPSP), Digital Currency Exchanges, Financial Institutions (Banks, Money Service Businesses (MSBs), Money Transmitters) and Online Merchants.
These services are offered in real-time based on patent-pending Electronic DNA (eDNA™) technology which tracks the different entities (consumers, merchants, cardholders, payment wallets, alternative payment methods, etc.) involved in a transaction. It builds reputations associated with these entities, which can then be used when evaluating anti-fraud, merchant account applications, consumer account origination, identity verification services, potential money laundering, and others. This reputation is shared during the analysis so everyone can benefit from the "network effect" while protecting the privacy of the entities involved.
For More Information Contact:
For more information, please refer to our website at http://www.identitymind.com, or reach us at evangelist (at) identitymind (dot) com
© 2014 IdentityMind Global. All rights reserved. IdentityMind, IdentityMind Platform, IdentityMind eDNA, and the IdentityMind logo are trademarks or registered trademarks of IdentityMind, Inc in the United States and other countries. All other brand, service or product names are trademarks or registered trademarks of their respective companies or owners.