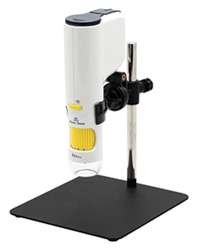 Vernon Hills, IL (PRWEB) April 07, 2014
Now users can capture and view microscopic images on their iPhone®, iPad®, or Android™ devices using the Wireless Digital Microscope from Cole-Parmer. This handy microscope is a natural for quality control applications, mobile research, laboratory uses, and academia. Simply download the free app and connect the handheld microscope to an Android or iOS device to take pictures or record videos.
The Wireless Digital Microscope can communicate with up to three devices at once for easy collaboration and reviews. It uses six adjustable white LEDs to illuminate the object. Users can capture the wireless signal from up to 32.8 feet away from a wireless hotspot. The microscope is powered by rechargeable batteries for complete portability.
To find out more about the Wireless Digital Microscope, call 800-323-4340 or go to ColeParmer.com/20887.
Cole-Parmer has been a leading global source of laboratory and industrial fluid handling products, instrumentation, equipment, and supplies since 1955. Our product lines, including popular brand names such as Masterflex®, Oakton®, and more, are sold through company-owned customer channel outlets and a strong network of international dealers. We also feature an ISO-17025-accredited metrology lab for instrument calibration and repair. Cole-Parmer responds with excellence to customer needs, and offers application expertise and technical support. For more information, contact Cole-Parmer, 625 East Bunker Court, Vernon Hills, IL 60061. In the US, call 800-323-4340. International customers, call 847-549-7600. Visit us at http://www.ColeParmer.com.