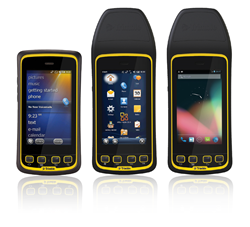 Group Mobile's Trimble Mobile Solutions trade-in program provides an exceptional value for Customers wanting to upgrade from older equipment to the most up-to-date Trimble technology in ultra rugged handheld computers
Chandler, Arizona (PRWEB) April 08, 2014
Group Mobile, well known for carrying the top brands in rugged laptops, rugged tablet PCs, rugged SmartPhones, and rugged handheld computers is now offering Trimble's Rugged Handheld Computer Trade-in Program. Until June 27, Group Mobile customers can trade-in old and outdated rugged handheld computers and receive up to an additional $250 off a new Trimble Juno T41.
"Group Mobile's Trimble Mobile Solutions trade-in program provides an exceptional value for Customers wanting to upgrade from older equipment to the most up-to-date Trimble technology in ultra rugged handheld computers," said Stephaine Kreitner, Executive Vice President of Group Mobile.
The Trimble Juno T41 handheld computers offer Enhanced GPS, giving the user 1-2 meter accuracy, fast connection to satellites, and amazing connection under heavy canopy. Trimble offers additional features such as IP68 rating for water submersion up to two hours, a fast 1D/2D barcode imager and UHF RFID — all within a slim, ergonomic design. Additional features also include a 1GHz processor and 512MB RAM along with 32GB on-board storage with either Android 4.1 or Microsoft WEHH 6.5 operating systems, 8MP integrated camera, multi-touch capacitive 4.3-inch direct sunlight-readable display, and all-day battery life with additional juice pack technology.
To learn more about the Trimble Juno T41 rugged handheld computer, visit http://www.groupmobile.com/product.asp/sku=6156/dept_id=/mf_id=65, or call toll free 866-RUGGED8 (1-866-784-4338) to discuss the trade-in program with one of our sales representatives and learn more about the Juno T41.
About Group Mobile
Headquartered in Phoenix, AZ, Group Mobile serves customers all over North America. Customers range from Fortune 500 companies and the U.S. Military, to local police/fire/ambulance, to small and mid-size businesses, to the frequent traveler that needs something more durable than a commercial, off-the-shelf computer. Group Mobile carries all the leading rugged computing brands. In addition, Group Mobile offers vehicle docking and mounting equipment from Gamber Johnson, Ram Mounts, and Havis/Ledco. To learn more about rugged computers and how they differ from commercial, indoor computers, check out the Rugged Computer Guide or visit us online at http://www.groupmobile.com.
About Trimble
Trimble's Mobile Computing Solutions Division offers innovative products that enable mobile workers to be more efficient in extreme outdoor and industrial environments. The Juno T41, Nomad, Recon, Ranger, and Yuma rugged handheld computers help users collect accurate field data and work more productively in any outdoor or service-related application. Trimble's handheld computers meet MIL-STD-810F and -810G military specifications for drops, vibration, immersion and temperature extremes, and with IP65 to IP68 ratings, are protected against water and dust.