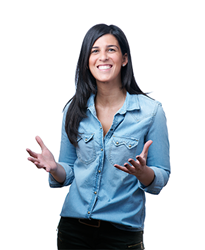 When a person is involved in an act of kindness, they discover who they really are.
Wayne, PA (PRWEB) April 09, 2014
BetterWorldians Radio today announced that Orly Wahba, the founder of Life Vest Inside, was a guest on the weekly Internet radio show. BetterWorldians Radio inspires with the people and ideas that are making the world a better place. The show featuring Wahba aired on Thursday, April 3rd and is now available via podcast on the VoiceAmerica Variety Channel (http://BetterWorldiansRadio.com).
Wahba talked about her inspiration to found Life Vest Inside, a non-profit with a mission to empower people through kindness. That mission took off when her video, Kindness Boomerang, went viral with over 30,000,000 views on YouTube.com. Wahba told listeners they can change the world through small acts of kindness and improve their own lives in the process. "When a person is involved in an act of kindness, they discover who they really are," said Wahba.
BetterWorldians Radio co-host MarySue Hansell said, "Orly has gone about her mission to get people involved in kindness in such a fun and heartfelt way. Anyone can go to her website, LifeVestInside.com, and find a multitude of opportunities to bring some happiness into the lives of others."
BetterWorldians Radio airs live on Thursdays at 11 a.m. ET on the VoiceAmerica Variety Channel and has featured guests such as best-selling authors Dr. Stephen Post (Why Good Things Happen to Good People and The Hidden Gifts of Helping), Tom Ziglar (CEO, Ziglar, Inc.), and Tiny Buddha founder Lori Deschene. To access the show, log on to BetterWorldiansRadio.com. All shows will be available in the BetterWorldians content library on the VoiceAmerica Variety Channel for on-demand and podcast download.
About Orly Wahba
Orly Wahba is an educator, entrepreneur, and community activist passionate about inspiring and motivating people to be the best that they can be. Orly began her career in Kindness as a Middle School educator at the Yeshivah of Flatbush in Brooklyn, NY, teaching the children to embrace unity, build their self-esteem, and use the power they have to influence the world for good. Yearning to make a larger impact with her philanthropic work, Orly founded Life Vest Inside in 2011, a non-profit organization with a mission to encourage people to embrace the incredible power of giving and recognize that in times of hardship, kindness, like a life vest, keeps the world afloat. Learn more at http://LifeVestInside.com.
About BetterWorldians Radio:
BetterWorldians Radio is a weekly Internet radio broadcast on the VoiceAmerica Talk Radio network that has provided a platform for some of the most inspiring people and organizations in our world today. BetterWorldians Radio is hosted by Ray, MarySue and Gregory Hansell, the family team that created the popular game on Facebook, A Better World. This game rewards players for doing good deeds while helping to raise money and awareness for charities. Over 2.5 million people have performed over 14 million good deeds in A Better World to date. BetterWorldians Radio is broadcast from Wayne, PA. A Better World recently launched a worldwide Campaign for Kindness with the release of an animated video, http://ColorWithKindness.com. When the video reaches 1,000,000 views, A Better World will fund surgeries allowing ten children to walk for the first time.