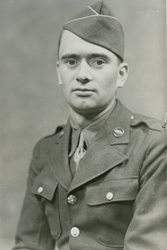 The successful DNA testing on Pfc. Gordon's case demonstrates how nuclear DNA testing can be incorporated in a large-scale, systematic DNA-Led system of identification of US soldiers
Lorton, VA (PRWEB) April 07, 2014
The Bode Technology Group, Inc.(Bode), a leading provider of forensic DNA services and products, in collaboration with the University of Wisconsin (UW), announced the successful DNA testing of 70-year old bone fragments from a missing World War II soldier. Bode provided DNA results within 8 days of receiving the samples, demonstrating that a nuclear based "DNA-Led" approach, an alternative to more common anthropology and mitochondrial DNA based approaches, is a viable option for identifying fallen soldiers. Through this collaborative effort, Bode and UW will help provide closure to the family of Pfc. Lawrence S. Gordon.
Remains recovered from a German ossuary in France were originally tested by the national crime lab in France, L'Institut National de Police Scientifique (INPS), where mitochondrial DNA (mtDNA) results obtained by INPS matched maternal relatives of Pfc. Gordon. Samples from the remains were then sent to Bode and UW for additional analysis. Bode's testing quickly confirmed the mtDNA results of the INPS. Additionally, Bode obtained a nuclear DNA (STR) profile and performed statistical calculations using DNA●VIEW™ software to further support the identification.
"This combination of DNA results is an extremely powerful tool to aid in the identification of our missing servicemembers," said Ed Huffine, Bode's Vice President of International Development. "The successful DNA testing on Pfc. Gordon's case demonstrates how nuclear DNA testing can be incorporated in a large-scale, systematic DNA-Led system of identification of US soldiers, similar to how identification projects are successfully resolved in other nations."
UW tests remains to help determine the condition of the DNA within the samples and improve techniques for recovering DNA from such samples. "This collaboration between UW and Bode is an example of how partnerships between universities and private companies can advance the state of science while at the same time bring answers to the families," said Joshua Hyman, Director of the UW Biotechnology Center DNA Sequencing Facility.
Jed Henry is a professional filmmaker whose grandfather was in the same unit as Pfc. Gordon. He became involved in Pfc. Gordon's case and worked tirelessly to have his remains located, tested, and identified. Jed said, "I am extremely grateful for the public/private partnership between UW and Bode. It is a great example of how cooperation and partnership can lead to the identification of our missing servicemembers. In addition to that, the ability for both the UW and Bode to work with INPS, a French government agency, shows that this model could work here in the United States if our government pursued such a testing strategy.
Bode has assisted many nations in the world with testing thousands of missing persons cases, using its vast experience to also help develop testing capacity in those nations. Such cases have included the 1970s 'Dirty War' in Argentina, mass graves in Guatemala and Peru, missing migrants throughout Central America, victims of natural disasters in Thailand and from Hurricane Katrina, earthquakes, and airline crashes in Africa, and both North and South America.
In addition to world-leading DNA testing capabilities, Bode also operates DNA storage and matching software programs that are used to compare DNA databases, determine potential familial relatedness, and then perform statistical calculations.
Bode utilizes validated procedures that meet the FBI's Quality Assurance Standards and ISO 17025 accreditation requirements.
For more information, visit http://www.bodetech.com/missing-soldiers.
About The Bode Technology Group, Inc.
Bode (http://www.bodetech.com) operates one of the most internationally respected private DNA laboratories and provides a comprehensive set of state-of-the-art forensic DNA collection products, DNA analysis services, and research services to law enforcement, the justice system and other government agencies around the world. Bode is one of the few private facilities worldwide to receive ISO/IEC 17025 accreditation from both the American Society of Crime Laboratory Accreditation Board (ASCLD/LAB-International Program) and the ANSI-ASQ National Accreditation Board/FQS for forensic testing.
Bode is one of the three wholly owned subsidiaries of SolutionPoint International, Inc. (http://www.solutionpoint-intl.com), a leading provider of business intelligence, security, compliance and monitoring, identity assurance, forensics, and situational awareness solutions for the commercial and government sectors on a worldwide basis.
###
Media Contact:
Chanda Breakiron
703.646.9880