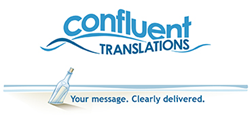 we owe our thanks ot the many clients and associates who give us unsolicited referrals
Pittsburgh, PA (PRWEB) April 09, 2014
Confluent, known for its responsiveness to client needs in the translation industry, serves a diverse range of medical, software, manufacturing, safety, chemical, B2B, retail and non-profits throughout the world.
Besides seeing increase spend from current clients, Confluent added five new clients, "we owe our thanks to the many clients and associates who give us unsolicited referrals," stated Charlene Nagy, Confluent's President and CEO. "Confluent has always grown organically, but never so quickly in such a short period of time."
The five new clients represent the legal, safety, manufacturing and pharmaceutical industries. Material ranges from contracts, sales material, user manuals and clinical trials in Chinese and three different versions of Spanish. "We also have had several clients agree to use Confluent exclusively for their translations in 2014," stated Nagy.
Nagy believes clients refer them so frequently not only because of Confluent's quality but also the unique way of always finding a solution to meet their individual needs. "With our 98% on-time delivery rating, our clients enjoy not having to worry once the work is turned over to us if it will get done on time," commented Nagy.
About Confluent Translations
Founded in 1992, Confluent is a recognized leader in the translation service industry and is an ISO 9001:2008 woman owned firm located in Pittsburgh, Pennsylvania.