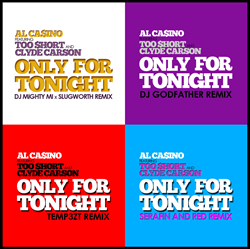 Los Angeles, CA (PRWEB) April 08, 2014
The Hip-Hop artist who got DJs and club goers buzzing with the infectious single "Only For Tonight," Al Ca$ino, along with featured top-selling artists Too $hort, and Clyde Carson, are unleashing four new remixes of the new hit single. The four energized remixes produced by DJ Godfather, Dj Mighty Mi & Slugworth, DJ Serafin, RED, and Temp3zt, are set to drop April 8th, 2014.
The four remixes come from some of the hottest DJs across the country. Detroit based DJ Godfather is considered one of the founding fathers of the genre Ghetto Tech and holds several honors for his work, including DJ Times 15th best DJ in America, Pioneer Pro DJ in 2011 and 2012, and "Best DJ in Detroit" by Real Detroit Magazine four years running (2008-2013). His music can be heard in popular games NBA 2k6 and NBA 2K7 on 2k Sports, and he also boasts sponsorships from Native Instruments and Serato.
Temp3zt, aka Coley Cole, of Southern California has produced original music for artist Slimmie Hendrix, aka Pittsburgh Slim, and generated direct interest from artists like LMFAO for remixes he's produced. Temp3zt has shared the stage with many notable artists including DJ AM, Static Revenger, LMFAO, Slick Rick, Hyper Crush, Ying Yang Twins, KRS-One, Finatticz, and Danzig.
DJ and music director Mighti Mi holds his own in the busy city of Las Vegas. Currently he is the resident DJ at the Surrender Nightclub and Encore Beach Club in the Wynn Hotel and Casino. He has been working frequently alongside the up and coming DJ Slugworth.
DJ Serafin is a self-taught producer from Los Angeles, CA who's remixed tracks for top artists Livvi Frank, Jordan Sparks, and Britney Spears. On the "Only For Tonight" remix, he teams up with DJ RED from Charlotte, NC, who's resume includes a performance at Mercedes Benz Fashion Week in Miami, a finalist spot at Smirnoff's Master of the Mix competition, and a winning spot at South Carolina's Hot Mixx 6 Times competition.
"Only For Tonight" came out with a bang in early February, catching like fire on the ears of club goers and DJs alike, establishing Al Ca$ino's reputation and reinforcing the pristine reputations of featured artists Clyde Carson and Too $hort. In alliance with producer Jared Lee Gosselin (Macy Gray, India Arie, Run DMC), these talents prove they are a powerful force in the mainstream Hip-Hop scene.
To preview "Only For Tonight," visit iTunes.
About BFM Digital, Inc.
BFM Digital is a global digital music company committed to serving the independent music community and delivering quality music, spoken word, and video, and other digital content to leading online retailers worldwide. Representing a diverse catalog of indie labels, artists and publishers, BFM distributes to all of the major music services including iTunes, Amazon, Spotify, YouTube, Google, Rhapsody, eMusic, MediaNet, Beatport, Pandora, Beats Music, LastFM, RDIO, 7Digital, and many more. With an unparalleled commitment to personalized service, BFM works closely with their content providers from around the world to ensure maximum exposure of their catalog by customizing marketing efforts and building strong relationships with BFM's digital store partners. At BFM Digital, we listen, so you can be heard. http://www.bfmdigital.com