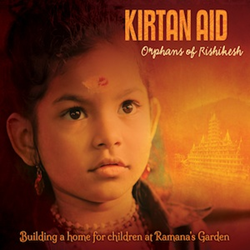 Los Angeles, CA (PRWEB) April 08, 2014
Kirtan Aid, an initiative started by the team at Spirit Voyage and the Sat Nam Foundation, announces the release of new album "Kirtan Aid - Orphans of Rishikesh," available everywhere April 8th. The album features New Age artists Snatam Kaur, Deva Premal, Kirshan Das, and more, with 100% of profit benefiting Kirtan Aid projects.
Tucked into the foothills of the Himalayas, high on a hill overlooking the River Ganga and sacred pilgrimage city of Rishikesh, is a haven and home for destitute children. The home, named Ramana's Garden after an Indian saint, and is run by Prabhavati Dwabha, a woman whose life work is the care of abused and abandoned children. This magical home boasts a stellar school, organic gardens, and programs for playful healing and spiritual growth, all so important to rehabilitate the children who have been victims of tragedy.
All 100% of the profits from the album will go towards building a green, sustainable dormitory at Ramana's Garden to expand the number of children this remarkable place can reach. Many of the artists whose music is on this album have been to Ramana's Garden and chanted with the children themselves. The album includes a wide range of devotional music from many traditions in many languages, including Sanskrit, Gurmukhi and English.
Many incredible kirtan artists have come together for this album, donating their music to raise money to build a new dormitory at Ramana's Garden. Participating artists include: Deva Premal, Snatam Kaur, Krishna Das, Jai-Jagdeesh, Tina Malia, Shimshai, Jai Uttal, Harnan, Wynne Paris, Simrit Kaur, Dave Stringer, Karnmrita Dasi, Ram Dass, Nirinjan Kaur, Sudga, and Maneesh de Moor.
For more information, please visit: http://www.satnamfoundation.org.
BFM Digital, Inc.
BFM Digital is a global digital music company committed to serving the independent music community and delivering quality music, spoken word, and video, and other digital content to leading online retailers worldwide. Representing a diverse catalog of indie labels, artists and publishers, BFM distributes to all of the major music services including iTunes, Amazon, Spotify, YouTube, Google, Rhapsody, eMusic, MediaNet, Beatport, Pandora, Beats Music, LastFM, RDIO, 7Digital, and many more. With an unparalleled commitment to personalized service, BFM works closely with their content providers from around the world to ensure maximum exposure of their catalog by customizing marketing efforts and building strong relationships with BFM's digital store partners. At BFM Digital, we listen, so you can be heard. http://www.bfmdigital.com.